Boyd for Business & Innovation Conference
Colonel John Richard Boyd
---
February 28 - March 1, 2014
UC San Diego Rady School of Management
$225 - price includes 2-day conference, parking, discounted hotel rates and most meals
"The significant problems we have cannot be solved at the same level of thinking with which we created them."
-Dr. Albert Einstein
Are you a business leader and your main activity is putting out fires? If recurring and persistent challenges leave you with not enough time to devote to strategy, creativity or innovation, then you experience significant problems. Research shows that these systemic problems manifest themselves most frequently in bottom-line results, top-line results and employee engagement or the war-for-talent.
According to Dr. Einstein, the solution must be found in a new or different level of thinking, which is key to creativity and innovation and thus to thriving on your own terms in a competitive and ever changing environment.
The late Col. John R. Boyd USAF studied patterns by which a small and perhaps less technologically advanced army ruled victoriously over their larger and even technologically superior adversaries. This unique conference makes Boyd's thinking about conflict and competition available to professional business leaders who want to make a difference for their company, their country and for themselves. In other words, to leave a legacy that is worth celebrating. 
Conference Information
About the Conference
The business environment in which the modern corporation exists is a dynamic and non-linear system in which unfolding circumstances are subject to constant change. Stochastic variables occur with alarming regularity in divergent forms ranging from banking collapses to nuclear accidents.
Preparing the executive mind and arming the business organization with concepts and tools designed to provide the capabilities to be able to respond to such variables with agility is a critical skill in surviving and prospering in today's business environment.
This program will seek to promote mental and organizational adaptations, which will serve to help create a flexible mental tapestry that will allow the business person to focus efforts in order to be able to adapt and respond to a changing and unpredictable world of many bewildering events and many contending interests. Possessing this "mental tapestry" can serve an important function in achieving continuing success. Achieving this flexible and agile mental tapestry will allow a management team and an organization to be able to maneuver.
Maneuver means more than deploying or redeploying resources, it also means possessing the knowledge and ability to be able to change from one direction or plan to another as quickly and efficiently as possible.
Knowledge and understanding of the environment is critical to the successful use of maneuver. This course is aimed at creating the awareness that organizations may have to transition from one plan or action to another based on the observations that will compel adaptation. Its goal is to create a willingness in the participants to recognize that change is not only inevitable, but that responding to it correctly may involve discarding existing beliefs and plans in which management may have invested considerable time and intellectual or even monetary capital.
Prepare to bring an open mind with which to question beliefs you think are valid and true.
Focus
This interactive course will help participants gain insight and understanding that:
There are patterns in conflicts of all kinds, including market conflicts. These conflicts are not only subject to a struggle for survival in the market but are also subject to such a wide range of outside influences that the ability to truly understand all aspects of the market and the environment in which the market exists is impossible.
The key to an organization's success in dealing with such system complexity and events lies with the ability of the organization to continuously scan and observe the environment and to develop the mental flexibility to orient on the fly to environmental or competitive changes and then to decide on the most appropriate action based on the best estimation of an inherently incomplete data set and to act based on that decision. This process is then repeated over and over again and the organization must be able to make continuous adjustments or corrections to continuously adapt to circumstances as they unfold.
Business challenges will persist and recur and therefore a business leader must improve his/her insight into the character and nature of the environment, it's complexity, and other external events that can effect his/her organization. Formulating a timely and adequate response to those perplexing events as they unfold requires understanding that one must plan and plan for change.
Impact
Participants will be able to enhance their power to adjust or change their level of thinking, in order to cope with new and unforeseen circumstances when working in complex environments.
Experiencing confidence in one's own critical thinking abilities
Introduction to the observe-orient-decide-act loop and its power to prepare for flexibility
Helping the leader/manager to deal with making decisions from incomplete data sets
Introducing a pull system to the marketing and sales process
Understanding the consistent properties of successful organizations in conflict situations
Participants
This course is appropriate for current and future business owners, executives or leaders that recognize that their individual leadership development requires a new or updated perspective. They can use these concepts to develop more and better knowledge on how to make decisions and gain insight and understanding of the nature of their decision making.
Participants that will enjoy this course are those leaders who are inspired to take the path which, although unknown now may well become the benchmark system for the understanding and execution of the decision making process in the future.
Recommended Reading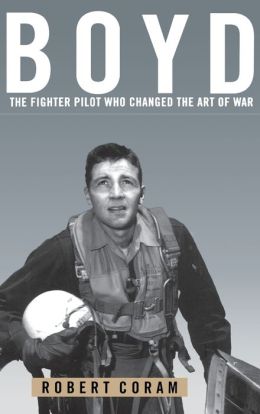 Coram, Robert. Boyd: The Fighter Pilot Who Changed the Art of War. New York: Back Bay Books, 2004. Print.
Richards, Chet. Certain to Win: The Strategy of John Boyd, Applied to Business. Bloomington: Xlibris Corp, 2004. Print.
Available at:
Bookstar Costa Verde
8650 Genesee Ave. Ste 230
San Diego, CA 92122
858-457-7561
Community Partners
Location
The Rady School of Management at UC San Diego is a professional school within one of the top-ranked institutions in the U.S. for higher education and research. The Rady School offers a Full-Time MBA program, a FlexMBA program for working professionals, a Ph.D. program, undergraduate and executive education courses. UC San Diego's lineage includes 16 Nobel Laureates (former and current faculty) and eight MacArthur Foundation award recipients. The Rady School is at the nexus of this research, development and innovation — it underlies our curriculum and our academic model. Click here for more information on Rady.
Lodging
Mention you are attending an event at UCSD to receive a discounted rate:
Estancia La Jolla - this is the preferred hotel for this event. It is a AAA Four-Diamond hotel that is within walking distance to the Rady School. UCSD rate is $179 per night.

Other Lodging: