The Rady School of Management has venues for small- and medium-sized meetings available for rent by external organizations.
Located on the northwest corner of the UC San Diego campus, the Rady School offers two multipurpose rooms for gatherings of up to 100 people, five classrooms that can accommodate up to 75, one larger classroom which accommodates 186 people, and outdoor gathering areas. The Rady School also boasts the 300-seat J.R. Beyster Auditorium.
The building offers the latest in audio and visual equipment and was designed to be environmentally friendly.
Otterson Hall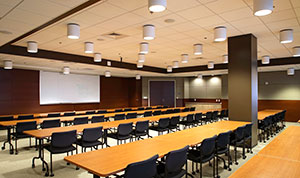 Otterson Hall was designed by Ellerbe Becket of San Francisco to encourage the interaction of the school with the UC San Diego campus and the wider San Diego community. The 52,000-square-foot building, dedicated in 2007, was featured on the cover of Almanac Architecture & Design 2010.
Wells Fargo Hall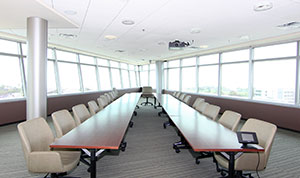 Wells Fargo Hall was designed by HMC and completed in May of 2012. The 84,000-square-foot building boasts the 300-seat J.R. Beyster Auditorium, two large lecture halls which seat between 75-186 people, and four small meeting rooms. The building was awarded the LEED Gold Award in 2013 by the U.S. Green Building Council for excellence in environmentally responsible building design, construction and operation.
Beyster Auditorium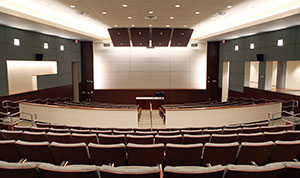 The Rady School boasts the 300-seat J.R. Beyster Auditorium. This space is equipped with the latest technology for your seminar needs. The Beyster Auditorium also features "Claim Your Chair" which allows you to mark your legacy and show your support by purchasing a chair in our theater with a brass plaque that bears your name. All proceeds will support the next generation of Rady School students, further developing the Rady School into a center of innovation, experiential learning and technology.
Executive Classrooms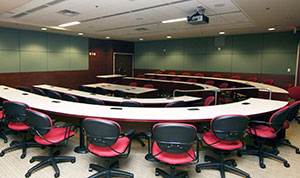 Rady School classrooms are the most elegant and innovative learning spaces on campus. All Wells Fargo Hall classrooms feature a touch panel interface, providing an easy to use way to configure and control the audio-visual systems in each room. Four classrooms are outfitted for audio and visual teleconferencing using the latest industry standard protocols.
Booking a Room
Request a room form to find out if your desired space is available.
Contact Erwin Milan at emilan@ucsd.edu with questions related to bookings.
Next Steps
Once availability is confirmed, a site visit can be scheduled and an e-mail including the Rady School of Management, UC San Diego, Room Usage Agreement and a list of preferred caterers will be sent to you.
***Please note, all parking arrangements need to be coordinated through the UC San Diego parking and transportation office. For more information visit the UC San Diego Special Events Parking Website or call 858.534.4223.
Fees
Venue Rental Fees listed below are during normal working hours (Monday – Friday, 8 a.m. – 4:30 p.m.). Evening and weekend rentals fees are available upon request.
Rady Fee Schedule
$1200 per day for 186 Fixed-Seat classroom
$1000 per day for Multipurpose Rooms
$800 per day for Fixed-Seat Tiered Classrooms
$600 per day for Non-Fixed-Seat Classrooms
$550 per day for Seminar/ Conference Rooms
Beyster Auditorium and Sky Pavilion pricing available upon request
Fee Includes:
Meeting space, tables, linens, and chairs
Laptop, Screens and projectors
On-site logistics coordination
Coordination with preferred caterers
Housekeeping
Additional Costs
Table linens
Laptops, conference microphones and other audio/visual equipment
Additional furniture
Catering
For more information about other venues on campus visit hds.ucsd.edu.