Entrepreneurship Shines at StartR Demo Day
Entrepreneurship Shines at StartR Demo Day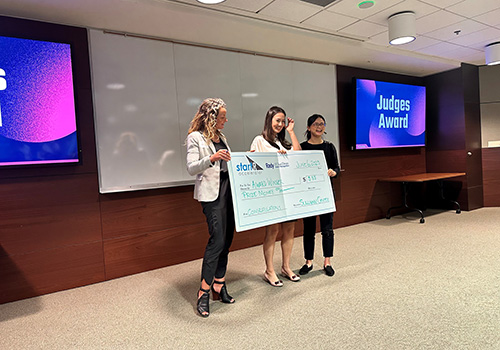 The Sullivan Center for Entrepreneurship & Innovation's annual spring Demo Day, the culmination of the StartR program, was held on June 6, 2023. The StartR Accelerator provides students, alumni, and researchers with robust training, mentorship, and an ecosystem of resources to advance entrepreneurial ideas from concept to impact. Presenters included teams representing the Inclusion-Impact program, focused on inclusive teams seeking to improve social and/or environmental conditions, and Rady Stage 2, focused on advanced lean startup and customer development principles.
Co-hosted by Sullivan Center Executive Director Tim Schwartz and StartR Director Kimberly Davis King, with opening remarks by Rady School of Management Dean Lisa Ordóñez, Demo Day featured pitches by six entrepreneurial teams:
StartR Inclusion/Impact
StartR Rady Stage 2
Drives & Detours app uses AI to provide a fully interactive and personalized "virtual tour guide" experience for just about anywhere on the planet. Access an unlimited range of content and topics for a premium tour experience at a price point that's more accessible than guided tours. Contact: Paul Behnke (paul@drivesanddetours.com)
MedAssent DDS is a woman-led B2B digital dentistry startup that's reinventing the relationship between medicine and dentistry through digital, FHIR interoperability-powered tools built for modern dental practice. Contact: Lauren Fang (fang@medassent.com)
Presentations were judged by Rady alums Haytham Allos (MBA '06), Mimi Kotter (MBA '18) and Ying Sun (MBA '17) who awarded three prizes:
StartR Inclusion-Impact Winner - Sundaze
StartR Inclusion-Impact Runner Up – Sitewise Networks
StartR Rady Stage 2 Winner - MedAssent
In addition to the judges awards, the audience voted and chose Sundaze as their favorite presentation.
More information about StartR can be found here.