Alum Richard Castle Takes Cloudbeds to New Heights
By Camille Cannon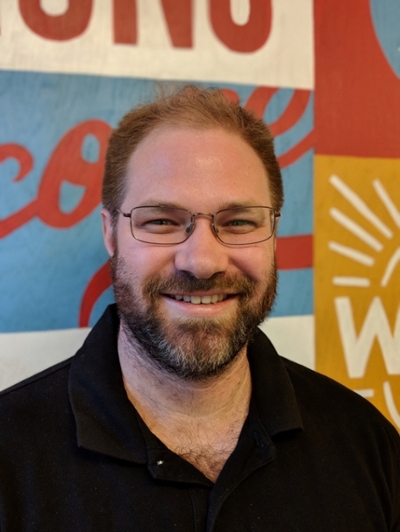 Richard Castle (MBA '13) was a student at Rady when the idea for Cloudbeds struck him and his co-founder Adam Harris. They were visiting Brazil in 2012, curious about booking a local stay. It wasn't clear where to begin the booking process with independent hotels — Where can you find an available room? How do you easily confirm and pay for the reservation?
Independent properties were not equipped to offer simplified lodging experiences. So, Castle (President and COO) and Harris (CEO) decided to change that. From that aha moment 10 years ago, Cloudbeds, which offers a comprehensive software suite to hospitality properties, is now used in more than 150 countries. Its 700 and counting employees represent more than 40 countries and 30 languages spoken. Cloudbeds has raised $253 million in funding, including investment from the Rady Venture Fund and a recent $150 million investment led by SoftBank Vision Fund 2. Despite the uphill battles facing the travel industry throughout the pandemic, Cloudbeds not only survived, it thrived.
"Our growth is because of how we handled our customers," Castle says. "A lot of our customers did not have guests [at the start of the pandemic]. We were financially supportive. We were empathetic." In the spring of 2020, Castle and the Cloudbeds team established a non-profit initiative to connect vacant hotel properties with healthcare and government entities in need of empty beds. This effort, called Hospitality Helps, pledged more than 1.2 million beds to healthcare professionals and community members who were seeking rooms for field hospitals and safe places to quarantine.
It's this desire to help others and transform lives with travel that motivates Castle daily. "We're a company composed of people that love travel and want to improve the experience through technology," he says. "As the travel industry grows and expands, it leaves the world a better place. You get out there, meet people from other cultures in new destinations. Cloudbeds allows people from anywhere in the world to connect and share experiences." That's why the company has been remote since its founding.
"Remote work may not be important for everyone at every company, but it is for us," Castle says. "We need team members all over the world. It fits our culture and who we are." Equally important, says Castle, is staying connected and building real relationships with his teammates. Prior to COVID, Castle traveled to Bali to be with his regional sales manager for their 40th birthday. A few years before that, he took part in a sales manager's wedding in India. To Castle, it's all part of the work in building a company of purpose-driven employees.
That work has not gone unnoticed. Cloudbeds has been recognized with dozens of awards for workplace culture. You will find this Rady Made business on Built-In's Best Remote-First Companies to Work For, Inc.'s Best Workplaces, and Forbes list of America's Best Startup Employers. "Having 700 team members feeling engaged in their work means more to me than money or innovation," Castle says. Cloudbeds has also hired fellow Rady alumni, including one of its most recent hires, Finance Director Woo-Jin Shim (MBA '13). "I would have never thought that we would grow this large," Castle says. "It's always humbling to look back. Rady was a big part of our success."
Castle says that the classes he took on organizational strategy and creativity made the biggest impact on his present-day leadership. "As a leader, you need to understand how people behave in groups," he says. "In order to make the best decisions, you have to uncover people's true opinions about a direction or decision. I have my opinion, but I might not be seeing every angle, or it might not be correct. You need the unfiltered truth from those around you. Once you have that information, you must get alignment from the team." And when a consensus is not possible: "We say 'disagree and commit.' We can disagree 20 percent of the time but we have to commit to a direction."
Castle also stresses the importance of data in decision making. "Bad decisions get made when leaders think that they have full picture, but they don't. Sometimes you need to ask questions like you're peeling back the layers on an onion to get the answer. Do we have accurate data to make decisions?"
Moving forward, Cloudbeds will continue to expand its research and development and staffing to support the growth of the company. There is also an effort to prepare for a pre-IPO. The goal, Castle says, is for Cloudbeds to be able to power any property in the world — from independent hostels to large hotels in Las Vegas — by 2026. As the company grows, Castle says that Cloudbeds wants its employees to grow, too. "We want to help build future leaders for other companies," he says, echoing the ethos of Netflix co-founder and entrepreneur Reid Hoffman. 
With Cloudbeds, Castle has already built a business that has helped shape the future of travel. Andrew Zloto, director at SoftBank Investment Advisers told TechCrunch in November, "We believe Cloudbeds has harnessed this opportunity to fundamentally change how the hospitality industry uses technology." He added, "By simplifying and consolidating critical business tools, the company is working to level the playing field for independent hoteliers and help them to thrive in a constantly evolving market."
It has been quite the ride since that "back of the napkin" moment in Brazil 10 years ago. If Castle could send a message to his then-student self, what would he say?
"Take risks. You can't grow professionally or grow a business without them," he says. "You have to keep looking for your purpose, keep taking risks, and be resilient."