Rady Alum wins the Paul B. Magnuson Award for Outstanding Achievement in Rehabilitation Research and Development
Global expert in the field of muscles and hand function credits his time at Rady with supercharging his efficiency on the business side of research and science.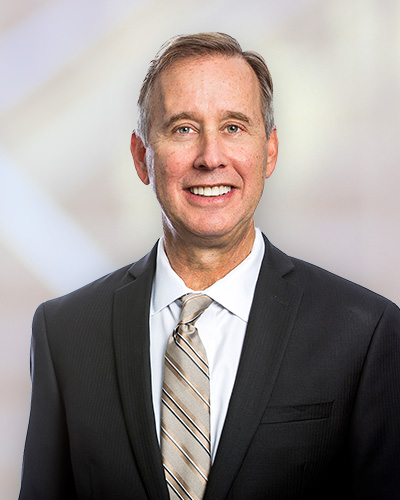 Dr. Richard Lieber (MBA '14)
Dr. Richard Lieber (MBA '14) was skeptical about getting an MBA.  He thought it was for people who only cared about making lots of money. "I don't care about money, I'm a scientist, right?" he said.
Well into his long and illustrious 30-year career as Professor and Vice Chairman of the UC San Diego Department of Orthopedic Surgery he had a change of heart about the value of a business degree, and enrolled in the Rady School of Management's MBA program. "It turns out that the people I met at Rady were not there for the money either. It was innovation, impact, mission, vision, that kind of stuff, and I really care a lot about that so I was hugely impressed with the faculty, who were also spectacular teachers."
He credits his Rady MBA with giving him the necessary tools to add to his skillset to help him confidently take the leap to new and exciting business and leadership challenges, such as his current role as the Chief Scientific Officer and Senior Vice President at the Shirley Ryan AbilityLab in Chicago, Illinois.  "The realization I had during business school was that scientists are really small business owners, and every aspect of a business, from HR, to marketing, to strategic thinking, to accounting, to finance, they have to do it all, and they have no training for it. All they know is something about their nerdy little gene  or, in my case, muscles."
Lieber is the global expert in the field of muscles and hand function. He works with people who have cerebral palsy (CP) and patients with spinal cord injuries (SCI). "Often with cerebral palsy, the hands, wrists and elbows get stuck, it's called a contracture, and the fix is often surgery. You cut the tendons, and you open up their hands and fingers.  Myself and my scientific partner suspected the muscles had trouble growing, and muscle stem cells are often involved in growth, and we ultimately discovered that people with cerebral palsy ran out of stem cells, which is a bad thing, because you need them your whole life."
It was actually in his MBA Capstone Course at the Rady School where he first mixed business with science. "Our cohort made a business plan to create a company that would work toward increasing the number of stem cells in kids with CP.  One of the deliverables was a template for where we were going scientifically. Fast forward 10 years to the present day, and we're doing an FDA-based trial where we are repurposing drugs that were not originally designed for CP," he said.  "Because the CP market is small, no drug company will develop a drug for it, but we can do drug repurposing.  I contacted the big drug companies to see what drugs were already being experimented with and might be good fits for our needs.  And through those connections, we found a drug that was already approved by the FDA and fixes the stem cells in culture, so now we're proposing a clinical trial."
Lieber credits the Rady School with supercharging his efficiency on the business side of research and science. "Every single class I took gave me a jewel of information. Before Rady, I had a toolkit with a screwdriver, a pair of pliers, maybe a hand drill, and some drill bits. Afterwards,  I got hydraulically powered wood planers, and it just changed my efficiency and impact. It obviously changed my bandwidth."
Lieber was recently honored with the Paul B. Magnuson Award for Outstanding Achievement in Rehabilitation Research and Development. The award is given to someone who exemplifies the entrepreneurship, humanitarianism, and dedication to veterans displayed by Dr. Magnuson during his career. The award was established in 1998 in recognition of the importance of rehabilitation research within the VA Health Care System. "This is the highest award in rehab," said Lieber.  "VAs have a meaningful connection to universities. The research programs of UCSD and the VA San Diego interweave a lot. That was by design, because, right after World War II, when the VA was revamped, Harry Truman asked Paul Magnuson to come work for the VA because he was an orthopedic surgeon, and was doing a lot of novel things for veterans who had come home. Paul Magnuson actually started the organization where I am now, so the award has all kinds of depth and dimension for me," he said.
What is the work he's most excited about lately? "I'm working with my chief medical officer to incentivize connections between scientists and physicians, and not just for publications and grants but to  actually make patients better," he said.  "We have innovation all over the hospital, and we run rounds of catalyst grants that anyone can apply for.  For example, our beloved floor shining guy who works from 11:00 PM to 6:00 AM every day had this sense that the floors were a little too shiny, because after he shined the floors, patients seemed to be more tentative when doing walking rehab in the hallway. So he put in a grant wanting to try different kinds of floor polish to see if it affects how people walk, and  we have a group of engineers who know how to measure walking. They sensorized the hallway, and to test he used bright polish vs. dim polish vs. other types of polish, because he was wondering about glare, and we did a multi regression model for him. When we were done, we clearly showed how shiny it was, not how slippery it was, was the difference. The floor glare made depth perception weird for people. It's sort of like, the day after he shined, everything lit up, and the glare was disorienting for patients."
This innovation and testing mindset shows how Lieber's time at Rady is still with him today. "I still go back to my notes from classes to this day.  In fact my leadership professor at Rady helped me think through my decision to move from UC San Diego to the Abilitylab in Chicago, she had a great perspective and was so helpful." 
He is grateful for that advice and for taking the leap. "We have about 2,000 people at the Shirley Ryan AbilityLab. We are all totally bought into the vision to become the global source for science-driven breakthroughs and human ability, and we take care of patients in a way that combines science and medicine. It's beautiful. I tell people that I feel like I'm a pretty good scientist and pretty good at my job, but ultimately it's just an absolute honor to be here."
In the end, his ultimate goal is still the same:  helping more patients live longer, healthier lives.