Amy Nguyen-Chyung
Assistant Teaching Professor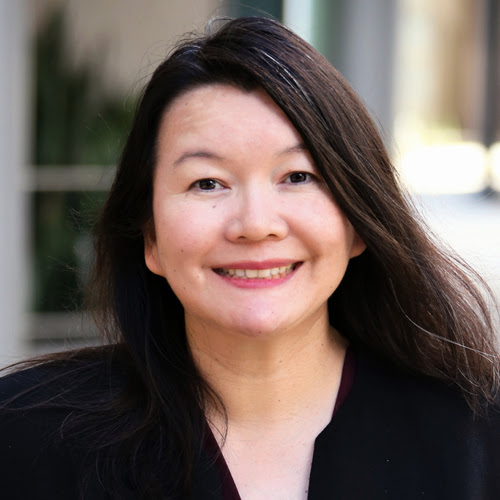 Profile
Publications
Research Areas
Profile

Professor Amy Nguyen-Chyung joined Rady in 2018. She is responsible for instruction and curriculum development of the Lab-to-Market Workshop capstone, the signature course series for Rady, in which teams launch new ventures or work with existing organizations to address challenging problems with innovative solutions. She is also Co-Director of the Institute for the Global Entrepreneur, a collaboration between Rady and the UCSD Jacobs School of Engineering, and is Faculty Co-Director of the Rady MicroMBA. 

She recently received the Most Valuable Professor award from the FlexEvening 2021 MBA class.  Prior to coming to Rady, she was Assistant Professor of Strategy at the University of Michigan's Ross School of Business, where she was nominated for the university-wide Golden Apple Teaching Award and the Weekend MBA Teaching Excellence Award. She has also taught at Haas and Wharton.

Professor Nguyen-Chyung's research is in the area of entrepreneurship and strategy, investigating sources and consequences of heterogeneity in choices of entrepreneurial individuals and firms. She has earned a number of highly selective research awards and grants, including from the Kauffman Foundation, and is also an author of an award-winning case on Amazon in Emerging Markets; over 40,000 cases have been purchased across business schools worldwide.

Professor Nguyen-Chyung is also a Limited Partner of Next Wave Impact and San Diego Angel Conference and has 13+ years of industry experience. Prior to academia, she worked in management consulting and international finance helping organizations to strategize or finance their growth – including for high tech, financial services, transportation, aerospace and defense, healthcare, consumer industry and government clients in NY, the Pacific Rim, S. America and Europe. At A.T.Kearney, where she earned the global Great Client Work Award, her clients ranged from Microsoft, Cardinal Health, and Raytheon, to Starbucks and BNP Paribas. She has also worked for the World Bank, Bankers Trust/BT Securities, and the U.S. Department of Commerce.

Professor Nguyen-Chyung holds a PhD and MS in Business Administration (Business and Public Policy – business economics area) from U.C. Berkeley's Haas School, a joint-MBA-MPA from Penn's Wharton School and Princeton School of Public and International Affairs and an undergraduate degree in East Asian Studies from Harvard.

She lives in San Diego with her husband and children. Fun facts: She is a two-time National Champion in kata and kobudo (weapons) in her age and rank group and a member of the AAU National Karate Team that competed at the WUKF World Championship in 2022 (where she medaled in kobudo). She has visited all 50 states in the US.

 
Publications
Published Teaching Material
Amazon in Emerging Markets Case (with E. Faulk) and Amazon in Emerging Markets Teaching Note, 2014, Updated 2019, Best-selling case (#1 at WDI Publishing, popular at HBS Publishing) taught at Marshall, Ross, Sauder, Wharton and many other schools. Case covers Amazon's new ventures in India, China and Brazil competing with home-grown entrepreneurial startups. Economics, Politics and Business Environment Category Winner, The Case Centre Awards, 2018 (The awards "recognize worldwide excellence in case writing and teaching…presented to those outstanding cases that have been used in the largest number of organizations across the globe in the past year.")
Professional/Invited Publications
Rady Business Journal Not another Buzzword Podcast Episode 2
: How to Increase Your Success by Engineering Your Exit with Mark Bowles and host Dangerfield Moore, 2019
•
https://www.buzzsprout.com/619864/1934768-engineering-your-exit
• Not Another Buzzword is a student-run business podcast founded to explore topics with academic, business, and entrepreneurial leaders.
Kauffman State of the Field: Entrepreneurship – Institutions and Environment
, (with Y. Paik, A. Venâncio, and R. Louie), 2016; also provided input on State of the Field: Entrepreneurship – Behavioral Determinants
The Future of Bay Area Jobs: The Impact of Offshoring and Other Key Trends
(with A.T. Kearney), 2004
• Project manager: led research team in 120 interviews (including semiconductor and software executives from start-ups to MNEs), analysis of 9,000 job listings and more to understand impact of global offshoring. Cosponsors: The Stanford Project on Regions of Innovation and Entrepreneurship, Bay Area Economic Forum and Joint Venture: Silicon Valley Network.
• Findings presented at Stanford University to 160 academic, business and policy leaders and multiple business and policy venues (2004-2005) and to the U.S.-China Economic and Security Review Commission (testimony to the U.S. Congress) (2005). Press coverage: San Francisco Chronicle, San Jose Mercury News
Offshoring: Accelerating and Here to Stay
(with J. Ciacchella), The Supply Chain Connection, Newsletter of the Stanford Global Supply Chain Management Forum, Vol. 10, Issue 4, 2004
Transforming the World's Oldest B2B Marketplaces: How Securities Exchanges Should Adapt for the Future
, (with D. Hanfland and R. Bharadwaj) A.T. Kearney FIGConnection, 2001
• Capture learnings from project and other projects to write on strategic implications for securities exchanges. 1 of 4 articles across the global practice selected for external publication and distribution to clients.
ACADEMIC RESEARCH 
Under revision/preparing for submission
Why Some Entrepreneurs are more Entrepreneurial than Others: Talent, Risk Attitudes and Overconfidence
Recipient of the Ewing Marion Kauffman Foundation Dissertation Fellowship; Academy of Management Entrepreneurship Division/National Federation of Independent Business Dissertation AwardFinalist. Presented at Georgetown, Michigan, Smith Entrepreneurship Conference, SMU, Wharton and other venues
Follow the Sun: Value Chain Positioning in an Emerging Industry(with Y. Zhou)
Presented at AOM Atlanta; SMS Special Conference, Banff and the West Coast Research Symposium on Technology Entrepreneurship, Alberta; presented at the National University of Singapore, Santa Clara University, University of Southern California, University of Colorado at Boulder; presented by co-author at the Midwest Strategy Conference, London Business School and Wharton.
Competing for Labor through Contracts: Selection, Matching, Firm Organization and Investments (with O. Shelef)
Presented at AOM Vancouver, SMS Denver, People & Organizations Conference; presented by co-author at the National Bureau of Economic Research, SOIE, Harvard, Maryland, Univ. of Southern California, Utah and other venues.
Preparing manuscript
Initial Conditions, Entrepreneurial Choice and Performance Presented at the Ewing Marion Kauffman Foundation Entrepreneurship Scholars Conference, and the Innovation and Institutions Conference at HBS.
Androgynous Names and Entrepreneurial Outcomes Recipient of the Ewing Marion Kauffman Foundation Research Grant in Seeking New Insights and Potential Sources of New Entrepreneurial Growth: Women (12 of 80+). Presented at AOM Anaheim, Showcase Symposium, the Innovation and Institutions Conference at HBS, and the Ewing Marion Kauffman Foundation Entrepreneurship Scholars Conference.
Not the Superstar: Heterogeneous Individual Spillovers within Firms (with O. Shelef) Presented at the Innovation and Institutions Conference at HBS
Hard Targets: Does Recalcitrance on Labor Standards Deter Global Activist Campaigns? (with A. Wetterberg). Presented at the Academy of Management Annual Meeting.
Agents' Market Ties: Relationships and Economic Outcomes in the Agency Context
Explaining Entry Decisions and Crowdedness in Business-To-Business E-Commerce Markets (with D. Croson and M. Jacobides) Nominated for the Strategic Management Society Best Conference Paper Award. Presented at SMS and the Workshop on Information Systems and Economics.
Research Areas

Entrepreneurial Choice and Performance
Initial and Post-entry Positioning of Firms
Strategic Human Capital
Non-market Strategy