About Us
Society is experiencing its most disruptive time in decades. The Sullivan Center for Entrepreneurship and Innovation at UC San Diego's Rady School of Management trains students, alumni, and researchers to see opportunities amid that disruption and develop impactful solutions that drive positive change.
Central to the Sullivan Center experience are our expert networks of seasoned entrepreneurs, executives and investors who support the entrepreneurial journey of students, alumni and researchers from across campus.
Sullivan Center Strategic Plan
Vision
To be a national leader in empowering cross-disciplinary and inclusively-trained students to boldly address audacious problems through new ventures and innovation.
Mission
Poised at the intersection of students, researchers, and external experts, the Center empowers stakeholders with the networks, experiences, and mindset to embrace disruption as an opportunity to develop impactful solutions that drive positive change.
Core Tenets
Networks
Integrating deep, broad, and diverse networks of seasoned executives, successful entrepreneurs, service providers, and investors to support the entrepreneurial journey.
Campus-wide Collisions
Uniquely serving the entire UC San Diego campus, the Center fosters partnerships and multidisciplinary "collisions" for students and researchers from across campus to complement and learn from each other, to build cross-functional teams, and to launch impactful ventures.
Accessible and Inclusive
Providing accessible programs and a spectrum of on-ramps for students, alums, and researchers to engage in experiential training and venture creation no matter where they are on their entrepreneurial journey.
Unlocking the Entrepreneurial Mindset
Demonstrating the value of entrepreneurial and innovation training and experiences as critical to professional success—whether as a founder of a new venture or as an innovator in an existing organization.
Network-Centric Ecosystem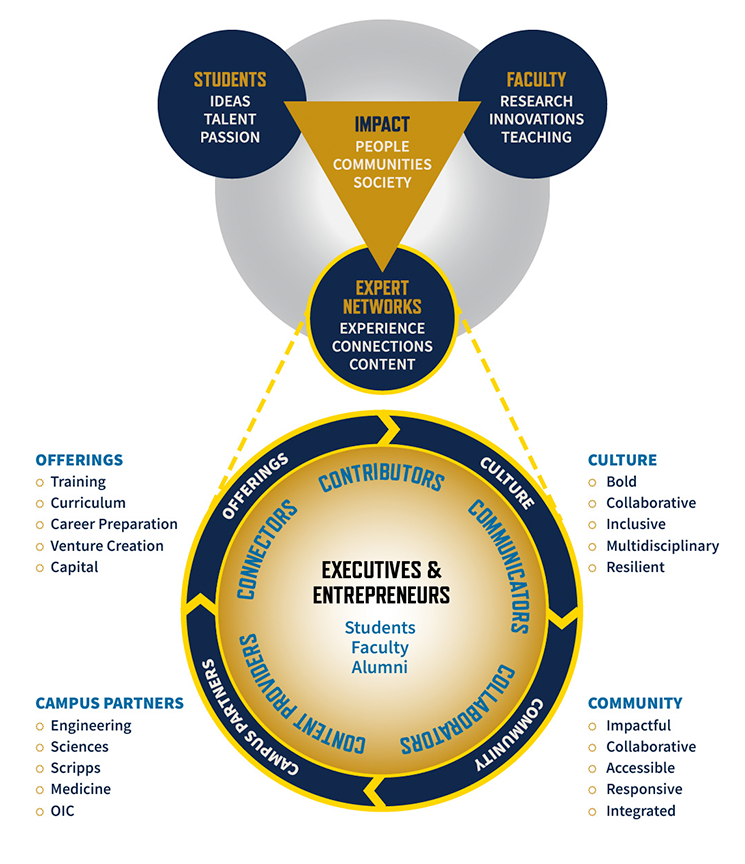 Entrepreneurial impact occurs where people converge—at the intersection of students, researchers, and networks.
A university's entrepreneurial success largely depends on the depth and breadth of the external networks it engages. Expert networks provide first-hand knowledge, experiences, and resources essential to a student's or researcher's entrepreneurial journey. Further, Members are the multiplier that enables the Center to amplify the training and to support more students, teams, and startups than the Center staff and partners can support.
These Networks function, often simultaneously, as:
Content Providers who offer uniquely informed content through training and advising.
Collaborators who help shape and validate programs and guide entrepreneurs.
Connectors who expand networks by engaging peers and other high-value stakeholders.
Communicators who advocate widely for the Center, the School, and the University.
Contributors who invest in new ventures, the Center, and the Rady School.
Honoring Dean Sullivan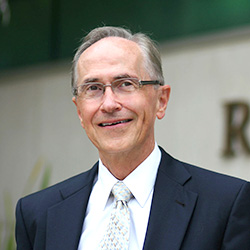 Robert S. Sullivan
The Sullivan Center is named in honor of Robert S. Sullivan, a disruptor in his own right, who was the founding dean of the Rady School of Management. The school was created as a shared vision by local science and technology leaders who recognized the benefit of housing the school within an innovation hub like San Diego, where business leaders are mission-driven, collaborative, and focused on life-changing impact.
Sullivan served as dean at the Rady School from 2003 to 2019. Sullivan influenced every aspect of the school as it grew from a startup to an innovation powerhouse. He led the recruitment of world-class faculty, who are consistently recognized for being among the best in the world as scholars and as educators. Soon after arriving in San Diego, he launched innovation-centric MBA programs for full-time students, as well as for working professionals. He later launched one-year specialized masters programs in the areas of finance, business analytics and accounting.
Our Team
The Sullivan Center's team provides support to students, alumni, and others interested in pursuing entrepreneurship through our programs.