Breaking the Cycle of Health Inequities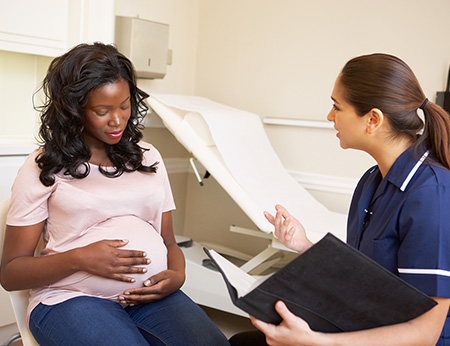 SRTI's PowerMom initiative is a maternal health research platform designed to address the lack of data and research on pregnancy.
Katie Baca-Motes (MBA '09) is leading innovations in clinical trial design that help pave the way for the inclusion of underrepresented minorities in medical research
Growing up, Katie Baca-Motes (MBA '09) saw firsthand the devastating impact of limited health care access on her Hispanic father's side of the family.
"My dad's family had 11 kids. They lived mostly in rural New Mexico and had pretty poor access even to basic health care," Baca-Motes said. "I have seen three of my aunts and uncles die before the age of 55 and bad health conditions across the family."
Years later, when she began working in clinical research, Baca-Motes noticed other patterns of exclusion in health care. Among them, the underrepresentation of women and minorities in clinical trials.
"I continued to see how many communities, how many populations, how many people were left behind."
The realization got her thinking. What could she do to make things right?
As her career progressed, that passion became a guiding light in her work. Today, as senior director of strategic initiatives at Scripps Research Translational Institute (SRTI) and co-founder of SRTI's Digital Trials Center, Baca-Motes is driving innovations that aim to reduce health disparities and inequities by increasing the diversity of the participant pool in clinical trials.
Baca-Motes and her team are harnessing digital technology to reach "anyone, anywhere" who wants to contribute to and benefit from biomedical research. By utilizing email, remote enrollment and commonly available wearable sensors (often providing these sensors directly) that can continuously collect data, they are enrolling people who were historically left out of clinical research.
"Traditionally, clinical research was limited to people who were in close proximity to an academic medical center and researchers typically did not actively try to recruit people from marginalized communities," she said. "For example the majority of genome-wide association studies (GWAS) focused overwhelmingly on European ancestry populations, which can have negative effects on how we translate findings into health care."
Advancing maternal and child health
One of the several clinical trials that Baca-Motes oversees at SRTI is PowerMom, a maternal health research platform designed to address the lack of data and research on pregnancy. Her face lights up when she begins talking about the initiative.
"This has been a passion project," she said. "Pregnant women are routinely excluded from most clinical research. Maternal mortality rates in this country are higher than any developed country in the world. How do we start to identify and uncover patterns, early indicators of health conditions in pregnancy so that we can improve outcomes? The ultimate goal is healthier moms and healthier babies."
In addition to enlisting participants by working with large organizations such as Blue Cross Blue Shield Association, Walgreens and Microsoft, Baca-Motes and her team are working with community-based partners who serve vulnerable pregnant women to ensure greater representation in the study.
"Black women are three to four times more likely to die at childbirth than their white counterparts in this country. The poor outcomes also disproportionately affect Hispanic and Native American women. This program is a chance to accelerate and advance research into maternal health for all pregnant persons but especially those often viewed as an afterthought in public health."
Along with PowerMom, Baca-Motes is also involved in several other SRTI projects including DETECT which first began as a nationwide app-based study to track the spread of viral illness by harnessing data from participants' wearable devices such as Fitbit and Apple Watch. In 2020, the scope of the study was broadened to include the tracking of COVID-19. The SRTI Digital Trials Center, which also includes several other Rady alumni, was a leader in utilizing wearable device data to develop algorithms to predict coronavirus outbreaks.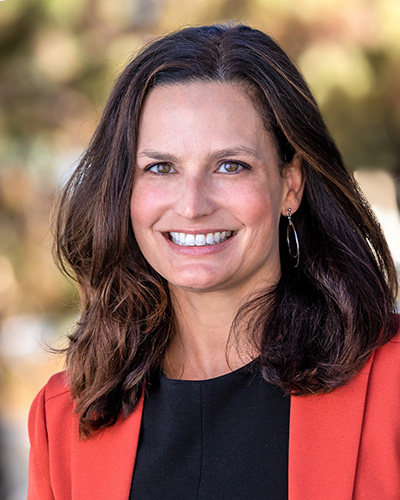 Katie Baca-Motes (MBA '09)
Ties that bind
Prior to joining SRTI, Baca-Motes managed research projects at Walt Disney Company, Aetna and Janssen. She credits her Rady education for her steadily upward career trajectory and the opportunities she has had to drive innovation in clinical trials.
"Rady has played a huge part in shaping my career," Baca-Motes said. "I was taught at Rady to do A/B testing, impact evaluations and really look at the data to figure out what's working in terms of communication, imagery and channels. Though other industries were doing it for decades, it was still considered new in clinical research. Rady was fantastic in introducing me to that."
Baca-Motes has remained active and involved with the Rady community. She developed and taught a two-unit undergraduate negotiations class for five quarters, has worked on projects with Rady professors and alumni, serves on the Rady alumni advisory board and has mentored students. She also finds herself reaching out to Rady friends and faculty when she's hiring, in need of a sounding board for a new idea or the scoop on industry trends.
"They are definitely the first I go to," she said. "They continue to have a positive impact on my life. The Rady alumni community is always there for each other — whether we just get together informally to stay connected, planning a formal event to hear amazing speakers or to judge a start-up competition." 
What lays ahead for Baca-Motes?
"I see myself continuing to work with inspiring people who truly want to make the world a better place," she said. "What I love most is coming together with passionate and engaged people and organizations to tackle big problems.  The challenges and focus areas will likely change over the years, but I imagine that I will always be surrounded by people making an impact."