UC San Diego Alumnus Establishes Kroner Center for Financial Research to Strengthen and Protect Retiree Investments
$5 million gift from Kenneth and Jennifer Kroner will expand center connecting asset owners with academics to work together on vital questions that impact big and small investors around the globe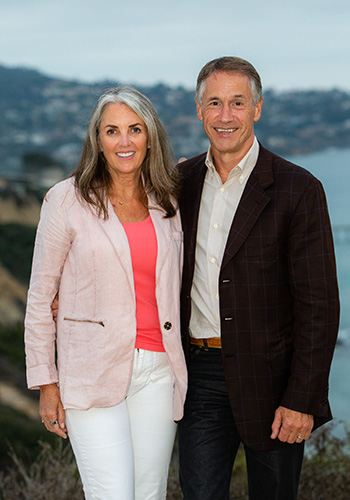 Jennifer and Kenneth Kroner
University of California San Diego alumnus Kenneth Kroner and his wife Jennifer have pledged $5 million to establish the Kroner Center for Financial Research at the Rady School of Management at UC San Diego. The newly named center will build and expand upon the work of the Pacific Center for Asset Management (PCAM), which the Kroners established in 2019 with a $1 million gift.
The most recent donation provides unrestricted funding to support research taking place in the Kroner Center for Financial Research, formerly PCAM, with the goal of bringing together academic researchers with asset owners and managers representing organizations that hold individuals' long-term retirement savings, insurance and other assets. The center focuses on the social good by generating high-quality research to address relevant investing questions that ultimately affect the living standards for retirees around the globe.
The gift contributed to the Campaign for UC San Diego, a university-wide comprehensive fundraising effort that concluded June 30, 2022 and raised a total of $3.05 billion. Kroner, who received his doctorate in economics from UC San Diego in 1988, served as co-chair of the Campaign for UC San Diego Cabinet. Every member of the Cabinet provided support for the Campaign, collectively donating a total of $1 billion toward the final fundraising goal.
"Ken and Jennifer Kroner have been instrumental in helping UC San Diego maintain its global notoriety in finance and economics," said Chancellor Pradeep K. Khosla. "Their most recent gift raises the bar even higher. Research undertaken at the Kroner Center for Financial Research will benefit millions of people around the world who rely on the asset management industry to safeguard their savings and pension funds."
The Kroner Center for Financial Research is housed at the Rady School of Management in collaboration with the School of Social Sciences. The center is co-directed by Michael Melvin, executive director of the Master of Finance program at the Rady School and Graham Elliott, professor of economics in the School of Social Sciences. It is the only research center of its kind, linking major asset owners around the world – including sovereign wealth funds, foundations, pension funds such as the California State Teachers' Retirement System (CalSTRS) and their beneficiaries – with the academic economics and finance community.
"The purpose of the Kroner Center for Financial Research is to bring the power of academia to the asset management industry in a way that provides real solutions to investment questions that might otherwise get ignored," said Kroner.
With the input of members of a Chief Investment Officer (CIO) Advisory Council, an Academic Advisory Council and an Industry Advisory Council, the center seeks to identify topics that are under-researched, but of high importance to asset owners, and conduct independent academic research on them. Researchers affiliated with the Kroner Center are working on addressing questions like if environmental, social and governance (ESG) investing can be good for both the planet and investment returns at the same time. Another research project in 2021 focused on whether activist investing has a quantifiable impact on the environment. Researchers found that large corporate shareholders who actively encourage changes toward sustainable practices do tend to influence corporate behavior.
"High-quality, independent research on the major concerns facing CIOs historically has not been available to pension funds, prior to the creation of the center," said Melvin. "CIOs are turning to the Kroner Center to answer questions at the intersection of science, society and investment returns. It is our belief that every worker deserves to live with confidence that their hard-earned savings will support a full retirement. We carry out our work knowing it affects the livelihoods and financial security of millions of real people."
The gift will help to expand the important efforts of the center, said Kroner Center co-director Graham Elliott, professor of economics in the UC San Diego School of Social Sciences. "Building links between academia and decision-makers in the pension fund sector improves both the focus of academic research on relevant questions and also the availability of quality research and its dissemination to the pension fund industry. This leads to better decisions, and better decisions affect the futures of hard-working people," Elliott said. "This gift will allow this collaboration to grow and for the ties between academia and the asset management industry to deepen."
A personal impetus to give back
Kroner leads the global equity investment management firm Pluribus Labs, which he built to capitalize on the intersection of economics, finance, data science and algorithms. Previously, he was senior managing director at BlackRock, where he was the head of multi-asset strategies and scientific active equities. He served on BlackRock's global executive and global operating committees. Prior to BlackRock, Kroner worked at Barclays Global Investors (BGI), which was acquired by BlackRock in 2009. At BGI, he oversaw asset allocation, hedge funds and client solutions businesses.
He began his career as an economics and finance professor at the University of Arizona. Soon after, he moved to the private sector. Kroner recounts a pivotal conversation with his father, which for him underscored the need for an academic research center focused on asset management. When Kroner's father shared his best performing retirement investment with his son, Kroner was surprised to discover that it was a fund that he managed.
"I told my dad, 'That's my fund! I manage that fund,'" said Kroner. "And in that moment, I realized that I wasn't just managing funds for a company. I was managing the savings of individuals – like my dad, who had worked hard as a firefighter. I quickly realized we need to get this right and I knew that if academia didn't address questions that come up related to investing, then commercial interests would prevail. The Kroner Center for Financial Research is working to solve problems that truly matter for the individual end-user."
Kroner has a B.Sc. in mathematics and economics from the University of Alberta and a doctorate in economics from UC San Diego. He serves or has served on several corporate, academic and foundation boards as well as academic journal editorial boards. His research on forecasting volatility and asset returns has been widely published in both academic and practitioner journals.
To learn more about the Kroner Center for Financial Research, visit the website.