Dean Lisa Ordóñez Named a San Diego Business Woman of the Year
The award from the San Diego Business Journal recognizes influential women who help the region thrive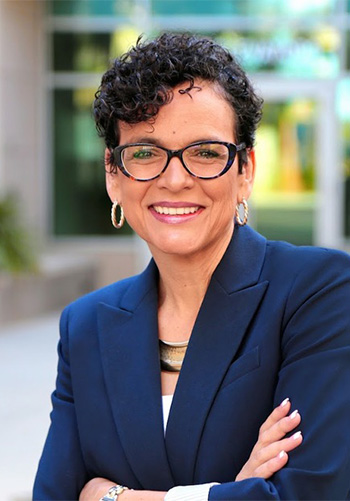 Dean Lisa Ordóñez
Lisa Ordóñez, dean of the University of California San Diego's Rady School of Management, has been named among the San Diego Business Journal's Business Women of the Year.
Ordóñez is one of 13 business women leaders selected out of hundreds of nominations. The winners were announced today and were honored for their significant contributions to San Diego's workplaces and communities.
Since she joined the Rady School in 2019, Ordóñez, the first Latina dean at UC San Diego, has made her mark at the school. She has created successful new degree programs, formulated a visionary strategic plan for the school's future and optimized academic hiring to bring in a cohort of new faculty poised to lead the way to an inclusive economy.
Building on the school's legacy on innovation, Rady also expanded its quantitative and data-driven curriculum. In addition, under Ordóñez's tenure, the Rady School has attracted record numbers of high-caliber students to the school's portfolio of graduate programs.
"I am honored to receive this award from the San Diego Business Journal," said Ordóñez. "I am inspired by the excellence represented in San Diego. By design, our school is maximizing the potential of the region with initiatives serving the military, health and biomedical industry and the cross-border region."
Prior to joining UC San Diego, Ordóñez was at the University of Arizona where she spent 25 years of her career. Her most recent role at the school was as Vice Dean of Arizona's Eller College of Management. 
Under Ordóñez's leadership, all of Rady's MBA and specialized Master's degrees programs were STEM (Science, Technology, Engineering and Mathematics) designated —a distinction only a small number of top business schools have received.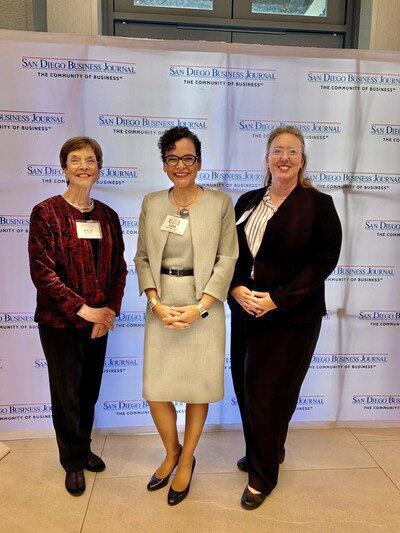 Julia Brown, member of the Rady School Dean's Advisory Council (left), Lisa Ordóñez (center) and Wendy Hunter Barker (right), assistant dean at the Rady School.
"This is a well-deserved recognition of Dr. Ordóñez contributions to the Rady School, the larger UC San Diego campus and our surrounding community," said Chancellor Pradeep K. Khosla. "The Rady School's evolution under her leadership is truly impressive. The school has gone from an innovative and forward-thinking start-up, to a nationally ranked business school known for creating the leaders needed for the 21st century—those who can create the essential bridges between science, data and innovation."
As a first-generation college graduate from California's Central Valley, Ordóñez has been a dedicated contributor to programs that support student success and assist women and underrepresented minorities in reaching their career goals.
At the Rady School, Ordóñez has hired seven new faculty members (about 15% of its research faculty) who support research on equity, diversity and inclusion. These faculty have put the school on track to become a major contributor to quality research on the topic of inclusive excellence.
In addition, she helped launch a new Flex Master of Science in Business Analytics, the only one of its kind in Southern California and an undergraduate business major that is joint with the department of economics in the School of Social Sciences.
To remove barriers for students of all backgrounds to achieve a STEM education, Ordóñez's efforts have been instrumental in creating a support system for first-generation and low-income students enrolled in the business economics major, ensuring they have access mentoring, social activities, as well as networking and research opportunities.
Graduates of the program will be eligible for a graduate fellowship at the Rady School of Management, advancing the school's long-term goal of building an inclusive economy.
"I believe that as a society we are at a point where advancing equity, diversity and inclusion is not only the right thing, it's the smart thing to do," Ordóñez said. "Organizations that are more diverse are more creative, more productive and, at the end of the day, more profitable."
Ordóñez is a recognized expert in the field of ethical behavior in organizations. She has published scholarly articles and chapters in her field of expertise and received a National Science Foundation (NSF) grant to support her work on ethical decision making.
Ordóñez holds a doctorate in quantitative psychology, an M.S. in marketing from the Haas School of Business Administration and a bachelor's degree in psychology—all three degrees are from UC Berkeley.