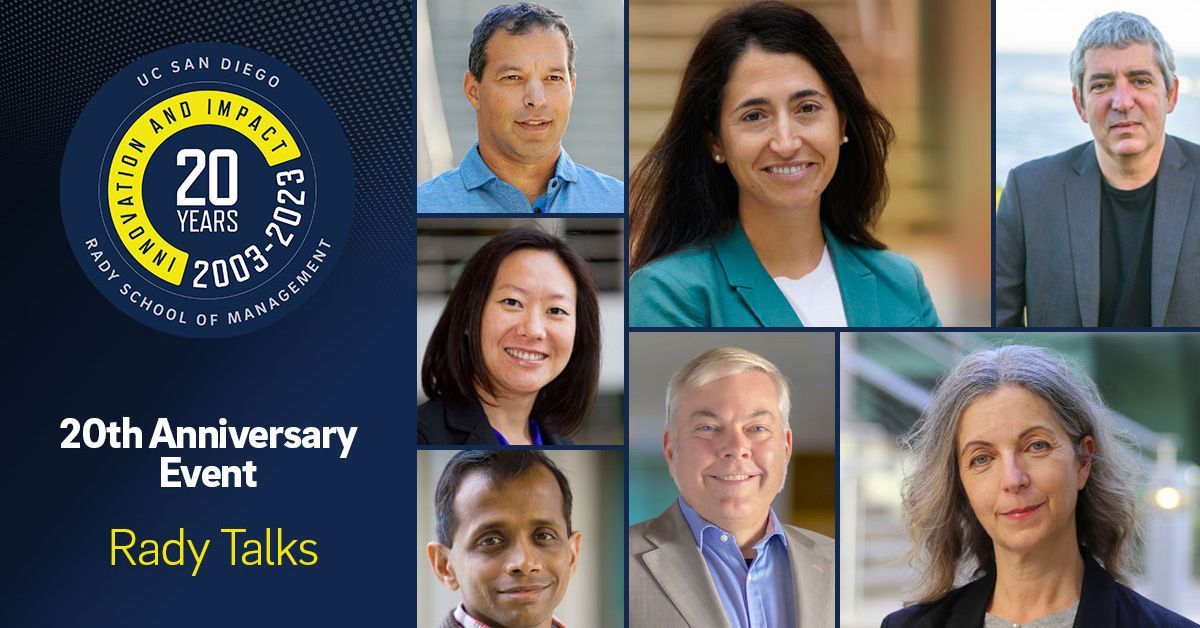 To mark its 20th anniversary, the Rady School of Management is hosting a series of TED-style talks from top faculty on Nov. 6.
Rady School Celebrates 20 Years of Innovation and Impact
How do money and time affect people's behavior? What is our human nature? And how do you use incentives to truly motivate people?
To mark its 20th anniversary, the University of California San Diego's Rady School of Management is hosting a series of TED-style talks from top faculty that delve into these questions and other research shaping the future of business. The event will be held on Nov. 6, 2023 at the Beyster Auditorium at the Rady School, with a reception at 4:45 p.m. and talks beginning at 5:30 p.m. It is free and open to the public and registration is required.
Speakers will include:
On Amir, Professor of Marketing, Wolfe Family Presidential Endowed Chair in Life Sciences Innovation and Entrepreneurship
Uri Gneezy, Professor of Economics and Strategy, Epstein/Atkinson Chair in Management Leadership
Ayelet Gneezy, Professor of Behavioral Sciences and Marketing, The Carol Lazier and Family Endowed Chair in Social Innovation and Impact
Vish Krishnan, Professor of Innovation, Technology and Operations, Jacobs Family Chair in Management and Engineering Leadership
Wendy Liu, Associate Professor of Marketing
Michael Meyer, Assistant Teaching Professor of Design
Marta Serra Garcia, Associate Professor of Economics and Strategy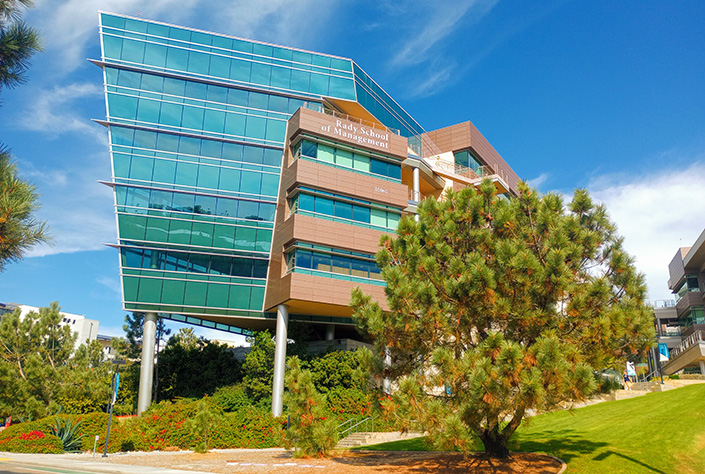 The Rady School of Management at UC San Diego
"Our real-world impact—from our faculty's research to the knowledge our students and alumni bring to companies and organizations—is what sets Rady apart," said Rady Dean Lisa Ordóñez. "We're looking forward to celebrating this milestone with our faculty, students, alumni, donors and business partners who, together, have helped us forge new paths and make transformative discoveries that enrich society."
Since launching in 2003, the Rady School has graduated more than 3,500 alumni and its students have founded more than 330 companies. Under Rady's inaugural dean, Robert Sullivan, the school quickly became a respected business school in the region and the country. Its programs expanded beyond the MBA, with graduates in accountancy, finance and business analytics impacting the San Diego region and beyond.
During Dean Ordóñez's four-year tenure, Rady has continued to grow and draw top research faculty, including seven focused on the intersectionality of business and an inclusive economy. The school now has seven graduate programs and three undergraduate majors shared with other schools, including one of the university's most popular programs: the B.S. in Business Economics. Under Ordóñez's leadership, the school has enacted a strategic plan focused on facilitating faculty research, enhancing the student experience and growing its partnerships within the region's robust biotech and start-up community.
For more on Rady's history and to register for its 20th anniversary celebration, go to the Rady anniversary event webpage.