UC San Diego Rady School Dean Lisa Ordóñez On Diversity & The Future Of Business Education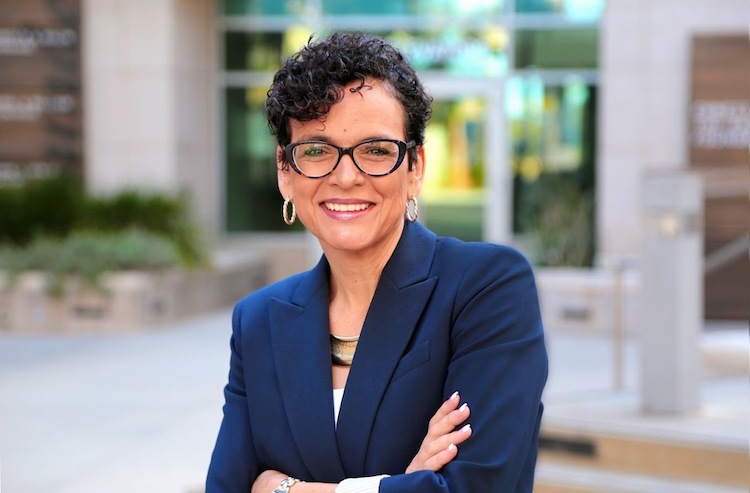 UC San Diego Rady School of Management Dean Lisa Ordóñez
It has been little more than three years since Lisa Ordóñez became the second dean of UC San Diego's Rady School of Management. On some level, her arrival in September of 2019 was something of a return home. After all, her academic career began in California as a first-generation college student from the state's Central Valley. Ordóñez earned all three degrees on her CV from UC Berkeley: a BA in psychology (1989), an MS in marketing (1992) and a PhD in quantitative psychology (1994). It has been quite an accomplishment for a young Latina from rural California whose parents didn't finish high school.
Before returning to California to succeed Rady's Founding Dean Robert Sullivan, she had spent her first 25 years at the Eller College of Management at the University of Arizona, serving as the vice dean for four and one-half years. Sullivan led the school for 16 years since it opened its doors in 2003. He helped to bring in a $100 million naming gift, among other things. Ordóñez's goal is to take the institution to the next level, building on the foundations set by Sullivan to allow Rady to become a nationally and globally-ranked business school.
In this interview, the UC San Diego Rady School Dean Ordóñez looks back on her tenure to date as one of the few women and even fewer Latinas who lead a major business school and also looks ahead to the future. She is largely focusing on growth and developing deeper connections to the San Diego business and military community. During her tenure, all of Rady's MBA and specialized master's degrees programs have received a STEM designation. She helped launch a new flex master of science in business analytics and an undergraduate business major that is joint with the department of economics in the School of Social Sciences. Ordóñez also has brought a renewed emphasis on Equity, Diversity, and Inclusion to the school and has already made strides in increasing the number of female and underrepresented minority faculty at Rady.
You're the second dean of Rady, and you took over three years ago just months before the pandemic hit. What was your original vision for the school and how did COVID impact your implementation of your five-year strategic plan?
My vision is to elevate the Rady School to a nationally and globally-ranked business school that will shape the next generation of business leaders who can create the essential bridges between science, data and innovation. Our new strategic plan supports this vision and advances a strong focus on equity, diversity, and inclusion (EDI), investing in impactful research, developing curricular innovations as a core component of the student experience, and fostering key industry partnerships.
Our region is a hub of innovation, biotechnology, engineering, telecommunications, and the health sciences. San Diego has the third largest life sciences market in the nation and the sixth for regional investment in tech. In addition, our programs are strengthened by the partnerships we have across UC San Diego, which is a powerhouse in engineering and life sciences. These ecosystems and industry connections allow our students and alumni to drive innovations in cutting-edge industries, including technology, biotechnology, pharmaceuticals, medical devices, and advanced manufacturing, among others.
Despite the pandemic, we now have the highest enrollments in the school's 19-year history, continue to attract high-caliber students to our programs, and a cohort of new faculty at the cutting edge of their fields. We were recently ranked by Bloomberg as 4th for entrepreneurship and 4th for learning in their list of the 2022-2023 best business schools. Also, Poets&Quants named our MBA ninth best for entrepreneurship and The Economist recently ranked Rady ninth in the U.S. and 12th globally for faculty
quality.
You have been able to significantly grow the Rady School of Management in a short amount of time. How have you done that?
We already had a strong foundation to grow from: World-class faculty, an analytical and quantitative approach to teaching, myriad career opportunities for graduates and a growing global alumni network. The new strategic plan is helping us grow in the right way. We have increased enrollment while maintaining our quality standards. During a time when most campuses implemented hiring freezes, Rady hired seven new research faculty. Five of these faculty are researchers who support equity, diversity and inclusion through their research, teaching and/or service. We were able to recruit amazing people who really support an inclusive economy in different ways.
We focused on rebuilding a robust team at our Career Management Center. Under the leadership of Toni Rhorer, our new executive director, we have a talented team of career coaches and a new employer engagement team that is working on building connections both locally, in the San Diego community, and globally to ensure that our students are well-prepared to reach their career goals, not just upon graduation but as alumni.
A core part of your strategic plan is outreach to the greater San Diego community. How have you achieved greater connection between the school and the community?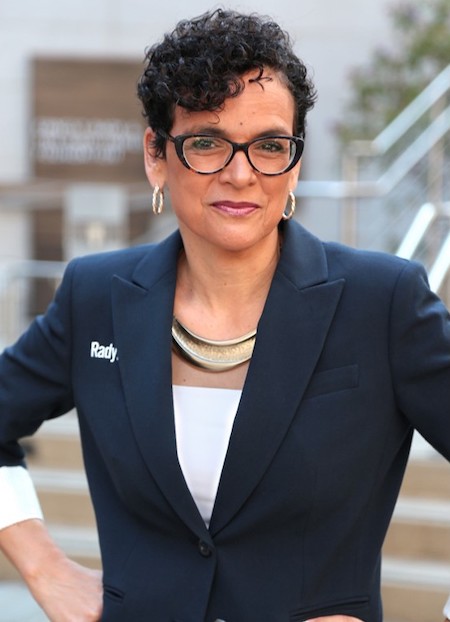 UC San Diego Rady Dean Lisa Ordóñez
This is a deeply connected and supportive business community. San Diego boasts an array of innovative companies and world class private-sector research institutes. By developing strategic partnerships, the school is maximizing the potential of the San Diego region with initiatives serving the military, health and biomedical industry, and the cross-border region.
For example, we offer StartR, an accelerator program providing early-stage companies and teams with mentoring, workshops, co-working space, connections to funding sources and access to the innovation ecosystems at the Rady School, UC San Diego and across the San Diego business community. StartR focuses on technology commercialization, including life sciences and biotech, mobile health, high-tech, communication, media, and technology-driven consumer products, as well as social ventures.
We established a partnership with the San Diego Military Advisory Council (SDMAC) to provide research, support for its Military Economic Impact Report. Our talented MBA students, under the guidance of our excellent faculty, uncovered insights that clearly show how our region's large military contribution helped keep San Diego thriving, even during the headwinds of an economic downturn due to the pandemic.
Looking back on your first three years, what changes have occurred in the programs and culture of the school?
During my tenure, all of Rady's MBA and specialized master's degrees programs have received a STEM (Science, Technology, Engineering and Mathematics) designation. This is reflected in the quantitative and analytical nature of our curriculum. Whether students are studying managerial or consumer behavior, finance, forecasting, or innovation, they do it with a quantitative mindset. We train them to use data to test their assumptions, ask smarter questions, improve business strategies, and challenge conventional wisdom. The STEM designation also allows students on F-1 visas more opportunities to stay and work in the U.S.
I am committed to fostering a culture of inclusivity in which all students feel welcome at Rady. This is why hiring research faculty who really support an inclusive economy has been a priority for me, and a critical accomplishment of the past three years. As a first-generation student who has received three degrees from a UC institution, I am proof of the transformative power of the quality, public education offered at UC San Diego and am honored to carry on this mission in our region. We continue to strengthen relationships across campus, working closely with other Deans and their schools to forge partnerships, identify opportunities for faculty to collaborate and create hands-on learning opportunities for our students
How is Rady differentiating itself in the market?
We train our students to take their analytical and quantitative skills to a new level by providing unique, hands-on learning opportunities in the classroom and in real-life business challenges with companies that partner with us.
Rady's curriculum and connections across UC San Diego–a top research university–creates a synergy for innovation, allowing our students to make major discoveries. For example, a significant proportion of our MBA students come from health sciences, biotech and bio-engineering backgrounds. Many of them are building careers in companies like Illumina, which develops genetic engineering technologies to fight cancer, or BD which manufactures life-saving medical devices.
Our cross-disciplinary collaborations on campus provide unique learning opportunities for students. One example is the Scripps Institution of Oceanography and Rady School of Management Ocean Plastic Pollution Challenge, a program focused on identifying effective, data-driven and evidence-based approaches to help economies curb the flow of plastic into the ocean. The program pairs Rady MBA students with multi-disciplinary teams that engage in a series of virtual short courses, team-based research, and a final two-day challenge to pitch solutions to an expert panel.
In addition, our campus is about 30 minutes away from the busiest U.S.-Mexico land border crossing in the country, an active and vibrant economic area with almost $45 billion in trade crossing annually through the ports of entry.
Through conscientious leadership, we want to model best practices for management education in our recruitment and curriculum decisions and in creating an inclusive environment for all. We are already on track to becoming a major contributor to quality research on this topic. For example, our faculty have studied the economic consequences of rolling back voting rights, how corruption in small towns increases when local newspapers shut down and how women are less likely to advance in their careers the longer they stay with the same company.
As you mentioned, Rady recently introduced a flexible masters in business analytics for working professionals. Do you think the market is requiring more flexibility and will we see this model replicated in other disciplines and topics for Rady?
I do think our program serves as a model for other business schools because companies across every industry are turning to data and information to compete in today's markets. When we were developing the program, we talked to several large corporations in the region and asked them about their main talent gaps in business analytics. Most of them told us that they struggled to find the talent needed to meet the demand presented by the ever-growing amount of data they produce and acquire.
The flexibility in the program allows working professionals to grow and learn how to collect, clean, visualize, and analyze data, and also effectively communicate their insights to decision makers. The flexibility both helps advance the careers of students with more life experience and serves those who wish to accelerate learning and complete a program in months instead of years. All business schools will have to become more agile to meet the changing needs of students and busy working professionals. We will continue to add flexible options for all of our programs, especially the MBA program.
Diversity and inclusion have become an important priority for business schools. What has Rady done in this regard?
As a society we are at a point where advancing diversity is not only the right thing, it's also the smart thing to do. Organizations that are more diverse are more creative, more productive, and, at the end of the day, more profitable. My strategic plan forges an inclusive Rady identity, ensuring equity, and diversity. As I mentioned, Rady recently hired five new faculty members who support EDI at the school and in business practices more broadly. Statistics continue to show an alarming lack of diversity in business education and leadership, and we are working to change that.
In collaboration with campus partners, we are also developing immersive and comprehensive preparation for students of diverse backgrounds enrolling in the new business economics major. The initiative will attract and matriculate socio-economically challenged, first-generation, and diverse students, and will provide mentoring, academic support, and social activities, as well as opportunities for networking and research.
What's your view of the future of management education?
For the UC San Diego Rady School, it's our strategic intent to continue to invest in value-added research. The research our faculty produce and our school initiatives are rooted in pushing boundaries to make a positive impact on the generations to come. These are principles that should guide management education so that business schools are creating the next generation of leaders who can contribute to a more innovative and equitable society. At the end of the day, these values also drive prosperity.
Business schools need to be training students for jobs that don't yet exist. Industry 4.0 will be more automated than ever, which means a lot of jobs will be lost to AI. Students will need to be able to navigate that landscape, which will require a combination of data literacy and tech savvy together with the kind of leadership and communication skills that machines will never be able to replicate, such as critical thinking, creativity, empathic teaming skills.
As a business school on the cutting-edge of science and with a strong track record of training principled future leaders, we are poised meet these demands from the industry.