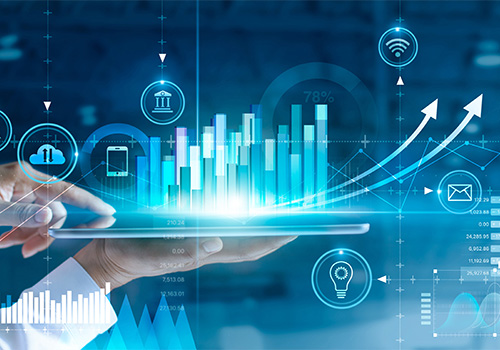 Kroner Center Research a Guiding Light for CIOs Managing Retirement Pensions
Until recently, CIOs of pension funds had scant academic guidance on how to balance the earning of good returns for retirees with steering companies and their portfolios toward supporting a sustainable economy and a healthy environment.
Since its inception in 2019, the Kroner Center for Financial Research at UC San Diego's Rady School of Management has begun to fill the void by supporting high quality, independent academic research on the major concerns facing CIOs.
At a recent meeting in January, findings from research projects supported by the center, which can have major impacts on how pension funds are managed, were unveiled.  
"The Kroner Center is not only breaking ground by bringing the two worlds of pension fund management and academia together, it is also catalyzing research that can help solve the problem of underfunded public pensions," said Michael Melvin, co-director of the center and Executive Director, of the Master of Finance program at the Rady School.
Each year, the center's CIO Advisory Council, which is comprised of individuals in charge of large pension funds, collectively holding over $1 trillion in assets, identify research topics that can help better manage their portfolios. The center's Academic Advisory Council then chooses three research proposals on the selected topics. 2022 focused on environmental, social, and governance (ESG) investing which prioritizes socially conscious investment decisions.
"CIOs are seeing an increased focus on their investments relating to ESG issues — from climate change to human rights and social unrest," said Graham Elliott, center co-director and professor of economics in the School of Social Sciences.
One of the research projects supported by the center sought to compare returns on bonds issued by companies with a high ESG rating to bonds from companies with a low ESG rating. 
"Preliminary findings suggest that the premium on ESG bonds is actually positive, suggesting that you don't have to sacrifice profitability to align a bond investor's values with their investments," Melvin said.
Similar positive results were found in another research endeavor that compared high ESG equity portfolios to portfolios without consideration of ESG.
"We found investing with a view towards ESG doesn't cost you anything, you can reflect your personal values in your portfolio and still earn similar returns as you would if you did not consider ESG," Melvin said.
Given that CIOs increasingly face pressure to divest in companies that say, produce fossil fuels, one research project explored the question of whether an investor can hold low-rated ESG stocks and then engage with the firm to bring about change, would there be any real effect of the engagement?  The answer is yes, engagement can bring about meaningful change and improve environmental conditions.
The Impact
The work of the center is of great relevance today. Nearly every state in the country is faced with a pension fund deficit that threatens the economic safety net of millions of older Americans across the country – retired firefighters, government workers, police officers, teachers as well as private sector employees.
The research projects underway for 2023 look at how the governance of pension funds impacts returns, how the portfolios of endowments compare to those of pension funds, and what the impacts are of pension fund investment consultants.
Melvin and Elliott say they are excited for this year's research projects which are laser-focused on the greatest needs and questions of large asset owners and their beneficiaries.
 "Tapping the brightest minds in academia, our robust research agenda furthers our efforts to secure the financial future of the generations to come."
The Kroner Center is named after economics alumnus Kenneth Kroner and his wife, Jennifer, who recently pledged $5 million to establish the Kroner Center for Financial Research. Renamed in 2022, the center builds and expands upon the work of the Pacific Center for Asset Management (PCAM), which the Kroners established in 2019 with a $1 million gift.
Visit this website to learn more about the Kroner Center.