2021-2026 Strategic Plan, Ideas to Impact
A Note from Dean Lisa Ordóñez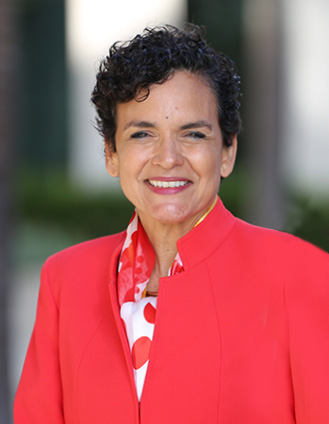 This strategic plan signifies an important milestone for the Rady School of Management. First, it celebrates the end of a remarkable startup era. Established in 2003, our founding Dean, Dr. Robert S. Sullivan, and former and current distinguished faculty, have successfully achieved recognition for our boundary pushing research contributions, our innovative STEM designated graduate programs, and our pioneering undergraduate minor and major programs that serve over 40% of UC San Diego students. We are on the cusp and ready to take our place among the nation's elite and most influential business programs. The strategic plan is our roadmap forward to this exciting future.
The Foundation, Vision, Mission, and Guiding Principles
The vision and mission statements and the three guiding principles are intertwined to form the platform for our strategic plan. In basic terms, the vision statement expresses our desired future state that inspires us and continuously pulls us forward, sometimes over decades — it is our North Star. The mission, on the other hand, specifies how we will pursue our vision during the next five years. Achieving our mission will push us to new heights and advance us toward our vision.
Vision Statement

The Rady School of Management will contribute to a more equitable, knowledgeable, and prosperous society.
Mission Statement

The Rady School of Management advances business by generating meaningful research and educating principled, innovative leaders.
Guiding Principles
Community-Focused
We are rooted in the principles of integrity, equality, diversity, and inclusivity, drawing wisdom from our distinct strengths and perspectives. We are a learning community of individuals that show up for each other.
Data-Driven
Motivated by curiosity and intellectual honesty, we practice evidence e-based decision making and leadership. We focus on innovation; our teaching and research drive local and global change.
Lasting Impact
We encourage our community to make a positive difference by supporting boundary pushing initiatives. We care deeply about the impact of our actions on the generations to come.
Strategic Intent, Strategies, and Objectives
The strategic plan consists of five strategic intent statements and the specific strategies and objectives to accomplish each. This defines our work for the next five years to achieve our mission and move toward our vision. Specifically, our strategic intent statements provide (like the mission) additional guidance on what the Rady School will achieve within the five-year timeframe. It should be noted that the five intent statements align closely with the UC San Diego overall strategic plan and key performance indicators, thereby contributing also to the advancement of the university.
Strategic Intent I
Investing in Value-Added research
As the business school of a top research university, we facilitate cutting edge research that matters. We aim to solidify our standing as leaders in core areas of research among the elite management schools with global impact.
Strategic Intent II
Reimagining the Student Experience
We will engage groups to forge an inclusive Rady School identity, learning to understand and appreciate how our differences can contribute to our success. We will also provide curricular innovation — delivering state-of-the-art content and pedagogy — and a greater range of program flexibility and accompanying support services to meet each student's needs.
Strategic Intent III
Fostering Vibrant and Long-term Partnerships
Using San Diego's core competitive advantage as a hub of innovation, biotechnology, engineering, health sciences, and the military, we will expand our program partnerships to facilitate local and global collaborations, particularly at the cross-border region. We will extend our involvement on the UC San Diego campus and in organizational and community governance activities.
Strategic Intent IV
Ensuring Equity, Diversity, and Inclusion
Through conscientious leadership, we will model best practices in our recruitment and curriculum decisions and in creating an inclusive environment for all. We will become a major contributor to quality research on this topic.
Strategic Intent V
Strengthening People, Organizational Operations, and Systems
We will nurture a people-centric workplace where there is a continuous improvement mindset and openness to change. We will streamline operations, improve our systems, and ensure fiscal responsibility that will enable our School to be agile and sustain growth.
Keep an eye on this space for updates on our progress of achieving these important goals.