Frequently Asked Questions
General Rady Programs
UC San Diego does not offer a Bachelor's degree in Business Administration. However, students interested in Business have the option of completing a major in general areas of interest or Business Economics and complementing them with an accounting, business, business economics, entrepreneurship and innovation, finance, marketing, or technology, innovation, and supply chain minor. Rady also collaborates with departments on campus to offer multiple "business-related" majors. 
The International Studies Program, in coordination with the Rady School, also offers an International Studies – International Business major. Students interested in pursuing this major should contact the International Studies Program for more information. Details relating to the major requirements can be found on their website.
Do I need to apply to The Rady Undergraduate Programs?
The Rady School is a department within UC San Diego and does not have a separate admissions process. Any admitted undergraduate student can take undergraduate classes at Rady.  We offer a minor in entrepreneurship, business, supply chain, and accounting, but we do not offer a business major. Please see the general UC San Diego admissions website for information about admissions requirements.
Rady minors are open to all UC San Diego students from most majors and any college. Please consult with your college academic advisor before declaring a minor in order to ensure that you will not exceed the maximum unit limitation or maximum quarter limitation by pursuing a minor.
You can declare a Rady minor using the Major/Minor tool on Tritonlink. The minors are listed as "M070- Accounting," "M074- Business," "EN30 - Business Economics", "M077 - Entrepreneurship & Innovation," "RS26 - Finance", "RS27 - Marketing", and "RS28 - Technology, Innovation, and Supply Chain." There is no application process and you can declare at any time. You do not need to declare before you start taking the classes. When asked for the subject code, use "MGT." For the institution, use UC San Diego (or the name of the community college if you took a course there). For course code, list the course number (for example 5, 131A, 131B, etc.). For the electives, you should list the electives you plan to take. List all of the classes you have taken toward the minor and all of the classes you still plan to take for the minor. However, you may change your electives later on and do not need department approval to do so.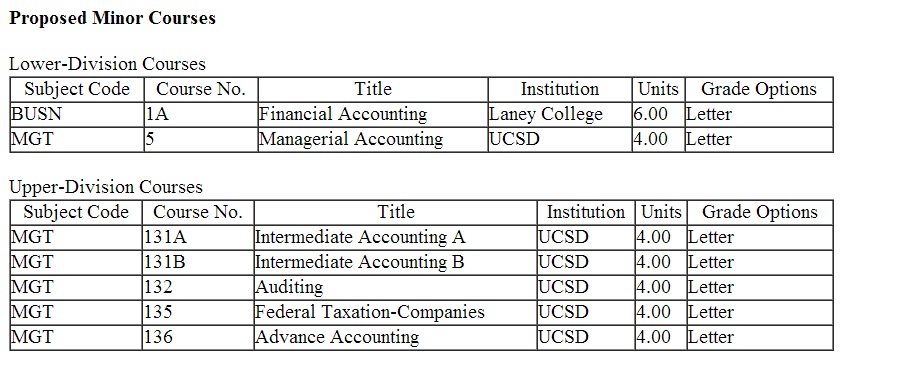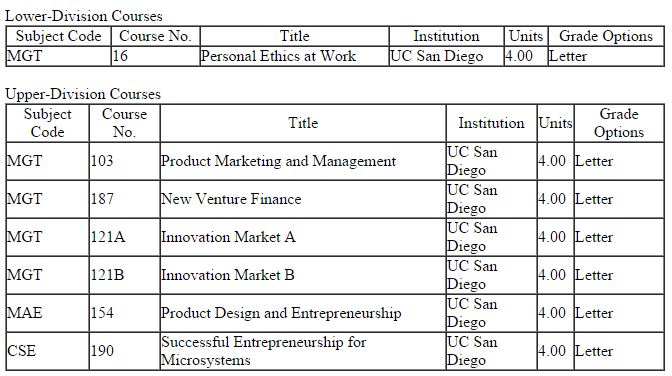 A maximum of two lower-division courses can be applied toward the minor. In addition, a maximum of two upper-division courses can overlap between majors and minors. Students must take all required courses for a letter grade, earn a C- or better, and earn an overall minor GPA of 2.0 or better to satisfy the minor requirements.
Students pursuing the International Studies - International Business, Business Psychology and/or Business Economics major cannot declare a Business Minor or Entrepreneurship & Innovation Minor as there is too much overlap between required courses.
One minor is not better than the other – how you intend to use your degree is a more important consideration. Use the Career Services Center as a resource when considering your career path.
The required course reader for your class is provided via Inclusive Access (IA). Inclusive Access is a program designed in collaboration with the Bookstore, instructors, and publishers to provide instant access to course materials on Day 1 of class to enrolled & waitlisted students of an inclusive access course. The IA program is able to offer the lowest market price on course materials due to the increased buy-in from students and the reduction of production/distribution costs by utilizing digital over print course materials. As a student, you have the choice to OPT-OUT/OPT-IN of this program up until the Add/Drop deadline of the course. If your class is an inclusive access course, all enrolled and waitlisted students will receive notification and reminder emails regarding their opt-out deadline. If a student chooses to remain in the program and does not opt-out, the Bookstore will charge your student account the inclusive access price after the Add/Drop deadline.
If you have additional questions, on billing or Inclusive Access, please email the Inclusive Access team at textbooks@ucsd.edu or contact the campus bookstore at 858-534-4557.
Learn more about the digital inclusive program.
A printed copy of the course pack can be purchased directly from the publisher on this site, click here. Type/Select "University of California – San Diego – Rady School" to purchase your instructor's course reader as a paperback copy.
Yes, students may pair the Accounting minor, Finance minor, Marketing minor, Supply Chain minor, and Technology, Innovation, & Supply Chain minor with any other minor at Rady. Econ/ MGT4: Financial Accounting and MGT5: Managerial Accounting and any other lower-division courses may be applied toward multiple minors. However, upper-division courses may not overlap between minors. Please consult with your college academic advisor before declaring minor in order to ensure that you will not exceed the maximum unit limitation by pursuing two minors.
Grading and Course Credit
No. All courses taken for the Rady undergraduate minors must be taken for a letter grade. Students must earn at least a C- in each course used for the minor.
For the Business Minor, you may take MGT3/ MATH10A/ MATH20A Pass/ No Pass to fulfill the math prerequisite for MGT181 Enterprise Finance. However, you should first ensure that you do not need to take this course for a letter grade for a major or general education requirement.
Passing is considered a C- (C minus) or better. Grades of D or F are not accepted for the minor. 
Lower-division classes can apply to both your major and your minor. A maximum of two upper-division courses (up to eight units) can apply to both your major and your minor. If you have taken classes applicable to both your major and minor and overlapping credit is not showing on your degree audit, then please contact our department advisors via the VAC.
A maximum of two lower-division classes can be applied toward the minor. For the business minor, MGT4/ ECON4 and MGT5 can count together as one lower division class in lieu of MGT45: Principles of Accounting. 
I have taken classes outside UC San Diego, will my courses transfer?
Each minor program has specific policies in regard to course transferability.
Check out your individual program:
Many courses from the community college will count as lower-division coursework at UC San Diego. For information about which courses from the California community colleges will transfer as equivalent to a UC San Diego course, please visit www.assist.org.
Note: Community college classes from outside of California can be petitioned for credit with the Rady Petition Form. ECON4/ MGT4: Financial Accounting must be petitioned through the Economics Department. For our department, all community college courses are considered lower division. 
Some approved minor courses will not always display automatically on your degree audit. For example, a relatively new elective course for the business minor will usually have to be added to your degree audit manually. If an approved course you took is not displaying in the appropriate section of your degree audit, please contact an advisor through the VAC to correct the issue. 
Please note: You will need to be a declared minor in order for advisors to assist you with this or similar issues.
Enrolling in Rady Courses
Use WebReg on TritonLink to sign up. Our courses have the subject code "MGT" in front of them.
Rady undergraduate courses (MGT 100–199) are open to all UC San Diego undergrad and graduate students. In order to enroll in an undergraduate course offered at the Rady School, you would first need to be accepted by the University of California, San Diego. For more information about UC San Diego Admission, please visit https://tritonlink.ucsd.edu/portal/site/prospective-students/.
The enrollment and waitlist system at UC San Diego is completely automated and we cannot predict your chances of getting into a class. We cannot allow more students to enroll than there are chairs in the classroom, so the enrollment capacity cannot be increased. The waitlists close Thursday of the 2nd full week of classes at 10:00 p.m. If you do not get a seat, Friday of the 2nd week of classes is your last day to enroll in another class that does not have a waitlist. Rady does not allow late adds after the 2nd week of class.
There may be problems with the enrollment system recognizing your prerequisite courses and we may be able to help. UC San Diego students should contact our department advisors via the VAC and non-UC San Diego students should email undergrad@rady.ucsd.edu and include your name, PID#, and the class(es) for which you are having problems registering. Instructors cannot help you enroll.
Yes. Students who have 75 completed units are eligible to request enrollment into upper-division classes (MGT 100-199) for the following quarter. You must meet all pre-requisites for the class enrollment requests and students can submit their requests through the Enrollment Authorization System (EASy).
Beyond Undergrad