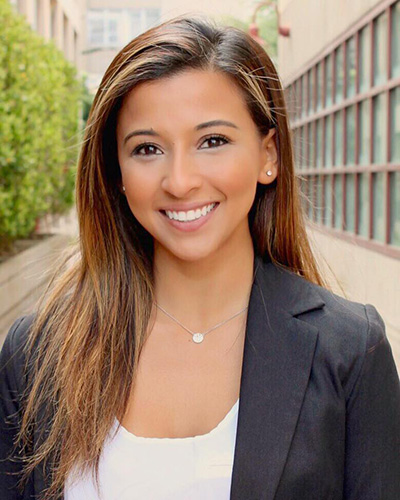 Aeshah Hadges
FlexEvening MBA
How would you describe your "Life at Rady"?
Life at Rady opened up my world both professionally and personally. While we gain skills and build toolkits necessary for the professional world, we also gain lifelong friendships with our classmates. This is especially important because I joined Rady during the pandemic in Fall 2020. As a graduate student working full time, having a community at Rady is essential to my success.
Part of my life at Rady is my mission to advocate for my cohort as their representative. I listen and amplify the voices of my classmates and champion their causes. This gives me the opportunity to work with our faculty and administration to create initiatives and build strategies to ensure the success of the students. I meet with other cohort representatives and Rady leadership monthly, where we all share the same commitment to wanting the students to thrive. Through these efforts, I see how much the Rady leadership cares about the students and the program. 
Additionally, I got married during my first quarter of the program. Some would have thought that I was crazy, but with the right support system between my classmates, faculty, administration, friends, and family, I was able to enjoy the happiest day of my life. Professors were very understanding and gave me the support I needed to juggle everything and keep my sanity. It was a momentous quarter, launching my professional growth by starting my graduate career at Rady and marrying the love of my life. 
What was your favorite course and why?
The Leveraging Blockchain course is an example of exactly why I joined Rady. I was interested in learning innovative technologies to solve business problems. If someone on the street asked me about blockchain technology, I'd be able to describe and discuss use cases to implement this technology as a solution to critical problems. We applied the concepts we learned in class by creating a blockchain solution for an industry problem and pitching it to a panel of judges. The course was a perfect combination of instructive and experiential learning. Not only did we learn about the concept of blockchain adoption, but we also did a deep-dive analysis to design a real-world application. 
What other schools and departments at UC San Diego did you collaborate with?
Virtual events allowed us to open our doors to neighboring students, so the Rady Technology Club took the opportunity to invite students at the Jacobs School of Engineering to one of our events. It was widely attended, which got us thinking about other collaborative opportunities, especially since we share interests in innovation.
Also, our Digital Product Management course is a combination of students from Rady and the Jacobs School. Interacting with engineering students allowed us to learn from their technical backgrounds while we showcased how to offer solutions from a business perspective. It was mutually beneficial, and we both gained value from the collaboration. This is especially important in a Product Management role as we need to view problems through this hybrid lens.
How did you form community and create a network at Rady? Were you part of any clubs or organizations?
When I joined Rady, my goal was to create a community that supports students with interests in technological innovations and applications. I was excited to find the Rady Technology Club because it aligned perfectly with my goals. I was elected as the VP of Marketing my first year, then President my second year. Surrounded by people with the same enthusiasm for technology, I made it my mission to create opportunities for our members to advance professionally in this field. As a team, we created an ecosystem of support and encouragement. Our organization hosted numerous events, including tech recruiter panels, alumni panels, technology conferences, etc. 
We often collaborated with other Rady organizations. To close the gender gap in tech, we partnered with Women of Rady and created an event: Male Allyship, Supporting Women in Tech. We wanted to create an opportunity to discuss how we can better support women in this field, and how to create a safe space for them to thrive. It was the first in-person event at Rady since the pandemic started and the room was filled with students eager to learn how they can better support their colleagues. This truly showed the strength of our community and our interest in supporting and encouraging each other's success.   
Did the analytical focus of the faculty and coursework help to prepare you for your career?
Absolutely. Rady gave us the tools to empower us in the workforce. Our training in quantitative analysis and using a data-driven approach allowed me to tackle business problems more comfortably. Rady does a great job teaching students how to address theoretical problems with analytical solutions. Students who had no background in data analytics are now better equipped for their careers because of the courses that Rady offers.