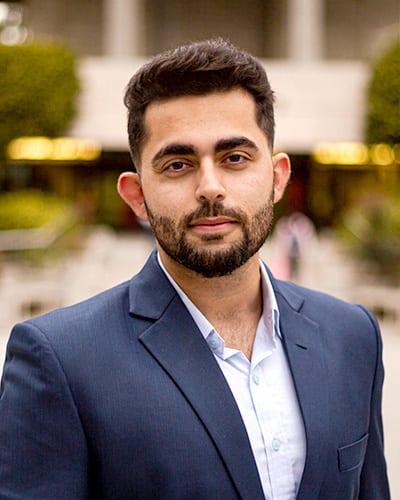 Akshay Chaudhary
MSBA
How would you describe your "Life at Rady"?
Being a grad student during the pandemic, I did not have the opportunity to fully enjoy "that campus life," but the remote culture sure had its own perks. The professors and my peers never made us feel disconnected and were extremely welcoming. I have to highlight that the faculty went the extra mile to be available for students both online and offline. I am truly proud to say that I have made some friends and mentors for life that I can reach out to anytime for advice and guidance. 
What was your favorite course and why?
If I had to pick one course of the many that I enjoyed during my time at Rady, it would be Customer Analytics — MGTA 455. As strenuous as it was, it really set me up for real-world business situations. I found that this course material was extremely relevant and designed to equip the students with the know-how of analytics professionals. I still use the concepts in my current role.
I cannot imagine a better professor to teach such a complex course than Professor Vincent Nijs who made it engaging, interactive and never mundane with a little friendly competition here and a little encouraging pep talk there. I am really grateful for this experience. 
What other schools and departments at UC San Diego did you collaborate with? 
I had the opportunity to experience collaboration with the MBA students in some of the managerial courses that I took. Additionally, working as a teaching assistant for both Rady undergrad and the School of Dance & Theatre, I got to meet a diverse set of people who enriched my experience here. 
How did you form a community and create a network at Rady? Were you part of any clubs or organizations?
Networking was never an obstacle at Rady as the student community is extremely welcoming with frequently organized events. This not only gave me a chance to network with my cohort but also with peers from other graduate colleges. 
I proactively volunteered in events and clubs such as the Rady Data Analytics Club, which was a pioneer for all things data analytics at UC San Diego. I held a core position in the club, which steeped me in a pool of like-minded individuals from diverse backgrounds and unique experiences that I carry with me even today. 
In all, I can say that there was never a dull moment in my grad social life given the barrage of events happening around me via Handshake or Rady Data Analytics Club. 
Did the analytical focus of the faculty and coursework help to prepare you for your career?
Today, when I network with prospective students pursuing an MS in Business Analytics, I make sure to explain to them the perfect and delicate balance that the MSBA degree has achieved in terms of technical knowledge and business acumen. I strongly believe that this course has perfected the recipe to mold the next generation of talented and skilled business analytics professionals. The flexibility of picking courses of your interest enabled us to tailor our own custom analytics career path.