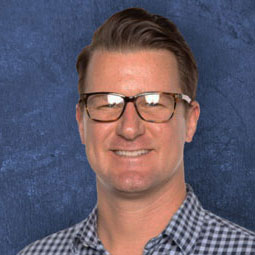 Justin Wells - MBA
Leaning in to Leadership


FlexWeekend MBA '16
CEO - Interlaced
BS in Computer Science - United States Naval Academy
Previously worked on business development and growth partnerships at Intuit


There were three priorities Justin Wells (FlexWeekend MBA '16) looked for as he compared business schools to help progress personally and professionally: innovation, entrepreneurship, and community engagement. 
Justin compared more than 10 business schools, and when it came to each priority area, the Rady School of Management stood out. Now, as CEO of Interlaced, a San Diego-based company that provides outsourced IT support to other businesses, Justin continues to be grateful for choosing Rady.
"Rady helped me find my voice and passion for leadership," Justin said, "giving me the confidence and knowledge to lean into — instead of away from — leadership opportunities.
Justin enrolled in Rady's FlexEvening program toward the end of his 10-year stretch as an instructor pilot and mission commander in the U.S. Navy. In that role he trained more than 300 naval aviators and led a team of 43 program managers with cross-functional oversight of more than 500 military and civilian personnel. He accumulated a wide range of leadership experience in the Navy, but he became a better leader at Rady.
Justin shared how the program helped him grow and how he applies the lessons he learned into his day-to-day responsibilities.
What were your goals for yourself heading into the Rady FlexWeekend program?
I had three goals for my time at Rady. 
I wanted to accelerate my transition from the military to the tech and business space. 
I wanted to scratch an academic itch in behavioral economics. 
I wanted to build a network and get deeply connected with the San Diego business, innovation, and tech communities.   
How challenging was it to balance school and your work with the Navy?
The first few weeks were difficult, but once I was able to settle into a good rhythm, I was surprised by how well I adapted to the busy schedule.   
After graduation and when you were discharged from the Navy, your first job was at Intuit. What role did your experience at Rady play in securing that job?
I can confidently say I would not have landed my job at Intuit had I not gone to Rady.  First, through coursework and case studies, I became aware of Intuit's culture, leadership, and innovation practices. Second, the coursework in product management, entrepreneurship, and finance prepared me well for the interview and even more so, to succeed in the role. Lastly, the Rady network played a huge role in helping me get an interview.  
What led you to make the professional switch a little more than two years later to become CEO of Interlaced?
I had a strong pull to try to launch a startup. I spent a few weeks in my garage with whiteboards and sticky notes working on business ideas. It was during this time that a recruiter reached out to me about the Interlaced opportunity. After some careful consideration, I came to realize that this opportunity had everything I wanted out of a startup: to get to build and evolve a team, to get to grow a company, and to get to deliver innovative products and services to market.  
What exactly does Interlaced do?
Interlaced helps innovative and fast-growing organizations build, manage, and staff an enterprise-quality IT program for a fraction of the cost of a full-time hire and deploy it in a matter of weeks instead of months or years.  
How do you describe your current responsibilities as CEO?
I sum up my role with one phrase: "long-term, sustainable value creation for the benefit of my teammates, our clients, and our investors." More tactically, I spend my time leading our sales team, leading our executive team and general managers, and working on long-term strategic initiatives.  
What did you learn about leadership while at Rady?
Rady helped broaden my leadership toolkit. While most leadership principles transfer very well from the military to the civilian sector, the Rady curriculum and my classmates helped me adapt and expand those skills to the business environment.
What other lessons did you learn at Rady that you're now able to apply to your day-to-day work?
I thought I was fairly competent at Excel before starting at Rady, but I confidently say that my modeling skills, as well as the finance and accounting principles, come into play nearly every single day.  
What role did your classmates play in preparing you to succeed after graduation?
I was very lucky to have a tight-knit, supportive, and competitive cohort at Rady. We all pushed each other to be better, while at the same time being very cooperative and fun. I was really fortunate to get to learn about all of their industry experiences, and that helped inform which roles I pursued. Additionally, we all stay in touch and have great friendships, which was a huge bonus that came out of my time at Rady. 
What advice would you give someone considering Rady?
I would attend a class. I think you will find the style of teaching, the engagement of the students, and the course material all very refreshing and exciting. Additionally, if innovation and entrepreneurship are meaningful for you, I don't think you'll find a better program.