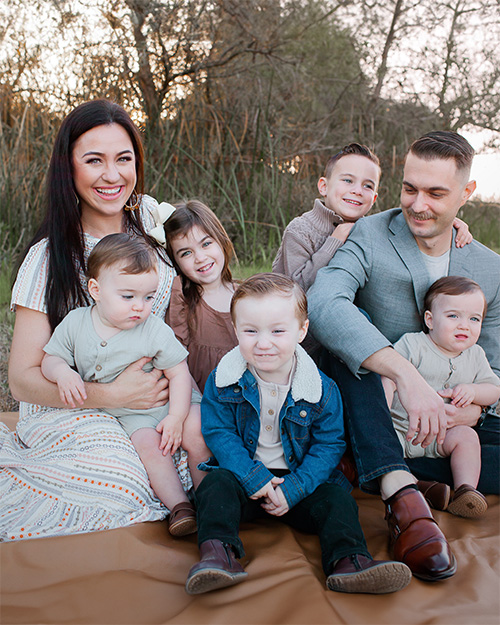 Joseph Tesoro
Dad of Seven – and a New MBA Graduate
When you have a full-time job, a spouse and five kids with two more on the way, finding flexibility can be a challenge.
Joseph Tesoro (FlexEvening '23) found it while pursuing his master's degree.
Tesoro is a recent graduate of UC San Diego's Rady School of Management's FlexEvening MBA program. He said the program definitely flexed the "Flex" in its name.
"The staff was understanding about our lives outside of school," he said. "There were some cases where I had to either go on a business trip and skip a class or I had to be late to class due to a personal commitment. Communicating this to my professors was easy, and I always felt they were understanding."
The FlexEvening program is designed to allow professionals to further their education and accelerate their career potential without having to leave their jobs. For Tesoro, it meant he could take two or three classes a quarter, mostly on weekday evenings, and still be there to be dad for Joseph (7), Evelyn (5), Thomas (3), Leo (2) and Gregory (2).
In fact, the children – who recently were joined by twins Benjamin and Charles – were part of the motivation for Tesoro to seek his MBA.
"It is one thing to want your children to be successful, but it is another to actually take a risk and show your children how to be successful," he said. "I want to help guide my children through decisions that they make in their personal life."
Tesoro was in the midst of a 14-year career with UPS and serving as a senior account executive when he made the decision to join the FlexEvening program. Beyond setting a good example for his children, he wanted to increase his knowledge and options for career growth, he said.
What he found was more than just classroom education.
"An MBA with Rady gives you great opportunities to network with different individuals from multiple business units," he said.
It was at one such networking event that Tesoro's career path changed.
Rady has a strong partnership with many San Diego-area businesses, including Gartner, a technological research and consulting firm. The company holds several on-campus events each year.
Tesoro used those events to network with as many company representatives as possible. Eventually, his resume made it to the right person at Gartner. He began a new full-time job as a consultant in February 2023, shortly after his FlexEvening graduation.
"Rady played a vital role in my job change," he said. "This would not have been possible if Rady and Gartner were not partners."
Despite the success he found during and after his time in the FlexEvening program, Tesoro said the task was not easy. What he said he knew, though, was that it was possible.
"There is a misconception that you must choose between having a family and bettering yourself," he said. "What is great about Rady is that you can have your steak and eat it too. It is possible to raise a family and get your masters at the same time."
And so now Tesoro is settling into not only his new job at Gartner but his expanded role as a father of seven. He said it's a bigger challenge to go from zero to one child and one to two or three than it is to go from five to seven. 
"Four-plus kids is like adding more white noise to existing white noise or adding water into the ocean. It's chaos no matter what you do," he said. "Now, when it comes to my grocery bill, there is definitely a difference."