Kamal Manchanda – MSBA '22
Game On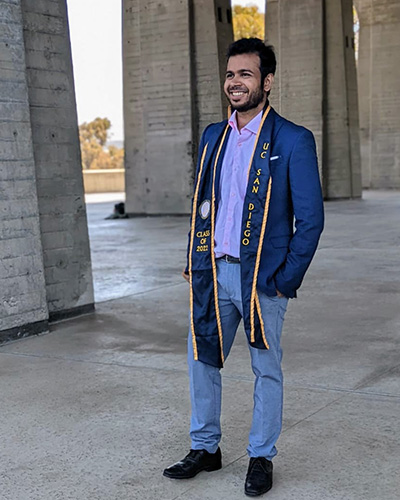 For Kamal Manchanda (MSBA '22), his work has time for fun and games
Many people unwind with games at the end of the day. For Kamal Manchanda, games are his day. As a part of Epic, most well known for creating game sensation Fortnite, he works as Senior Decision Scientist, Growth, focusing on analytics, finding that it has its own thrills for him, on par with his company's exciting graphics.
"I've enjoyed games for a long time and it's so much fun to work on this product," says Manchanda, who received his MS in Business Analytics in 2022 from the UC San Diego Rady School of Management.
In his current role, he works directly with the marketing team, and helps them to optimize their campaigns. "We run campaigns on different platforms like Facebook, Google, etc. to acquire new customers by showing them ads. When you have an allocated budget for the quarter it becomes very important to run campaigns efficiently. I help the marketing teams in deciding the budget allocation across different platforms and also help them decide how long to run the campaigns by analyzing the impact over time," said Manchanda. "I also work with the growth team to reduce the friction and improve usability for the customers landing on our website by running A/B tests."  He works directly with product managers and product designers help design these A/B tests. "We start with a hypothesis we want to test, and then I work with product designers on all of the variants we need to properly do an A/B test. For example, let's say we have a hypothesis that bold style text and the color green will lead to higher conversions since it is more visible to the eyes compared to the current style, which is non-bolded text and the color black. I will work with the product designers in deciding which variants to test."
He learned a great deal previously from his time at streamer Disney+ Hotstar in his Senior Analyst role. "Working in data science for such a recognizable brand, you learn a lot," says Manchanda, originally from India. "I got to focus on how we can convert subscribers and focus on different features on platforms and increasing retention through the right content."
At Zynga, it was about balance in his Analyst II role. "It was so helpful to understand how games have to be," he says. "If it's too difficult then you see a drop off in participation, but if it's too easy then there aren't any challenges and they might not stay on the platform. I had a chance to help improve motivation and engagement."
The Rady School of Management, of course, was a challenge on to itself, one that changed Manchanda's career. "I already had prior experience in analytics and wanted to grow my skills. I decided to pursue an MSBA so I could learn new analytical and data science skills which I have not used before and also learn how to apply those skills to real-world business problems."
He was excited to attend Rady. "Here was a chance to learn from some of the best professors in the world," he says. "At Rady, you had an option to really focus on courses designed for your career. You had your core courses and they were vital to truly gain knowledge in analytics and design but you had electives for industry experimentation. The Customer Analytics course was one of the highlights, applying real world problems. Because of UC San Diego's relationships, you found that at Rady you could work with actual data from partners and that's just tremendously valuable. You just felt that they had the resources to take you outside the hypothetical and help you believe that what you were doing had true application. I worked on a marketing project with NP Digital. We were given data on multiple paid and earned media campaigns for multiple clients. The task was to see if earned campaigns have any interactions with paid campaigns. And also, provide insights that can help in optimizing campaigns."
The Customer Analytics class was led by Professor Vincent Nijs. Manchanda also loved Professor Sally Sadoff's Experiments in Firms and Professor Lawrence Saul's Principles of AI.
With all of this additional expertise, he was ready to make his mark in the industry. "The preparation for interviews and employment with Rady were thorough and very helpful," Manchanda says.
"Rady prepared me for my interviews through teaching how to communicate to stakeholders and requiring us to do presentations often on what we learned," he says. "You ended up feeling comfortable for job interviews, and that you could showcase what you brought to the table with your personality, skills and innovative thinking."
In fact, Manchanda sees Rady in his work all the time.
"I recall my professors when I'm up against tough problems," he says. "I can remember their encouragement to truly engage and use my talents. And you feel if you need them that they would be there. You gained a lifetime relationship by going to Rady; it's not just a school you went to for a little while in your life."
 For his goals, even as far along as Manchanda is, he still thinks he's in the learning phase to some degree and others can make the mistake at his level by thinking they're not. "I want to learn further how to apply my skills to the industry but that means continuing to grow new skills and to be open-minded that there is more depth to gain," he says. "I want to continue to be a student of problem-solving technology and greater methodologies. I think Rady taught you that you never really stop being a student—it's just the environment that you learn in changes." 
Manchanda also loves the diversity of the students in the school. "I feel you get so many different backgrounds of people with many different ideas that meld together to make us all better learners and better businesspeople for the future," he says. "The competition and business opportunities in San Diego are a plus as well."
But, he says, bring an open mind. "Find the right courses for your path, engage with professors and get insight from them about your future goals."
And, most of all, be ready to work. "The classes are very competitive," he says. "It's going to be tough but you want that challenge. The assignments, even as they take their share of hours, you will have peers in the same situation and the school encourages everyone to lean on each other, grow together and be a community. Choosing Rady was a great decision."
During his time at Rady, he found a dream job. "I got an offer from Epic while I was a student and started working at Epic after completing my graduation. Rady's career center was helpful in connecting to alumni who work in similar roles and industries relevant to my profile and also offered tips on networking on LinkedIn."
As Manchanda further evaluates how he can contribute in his present position, he particularly thrives on playing a role in a product that adds entertainment to children's lives. "It's enriching for kids to hear about stories," he says. "You can read comic books on the platform. I have a gaming background and I find it interesting to see how the product motivates kids through achievements. When they win, they get rewards and badges and that reward-based concept is something users really positively respond to."
And Manchanda gets his own rewards partly from being energized from the trial and error of testing for the company.
"Many people are working at places and think, 'I can't relate to the product at all.' I work in games. And that makes me feel lucky."