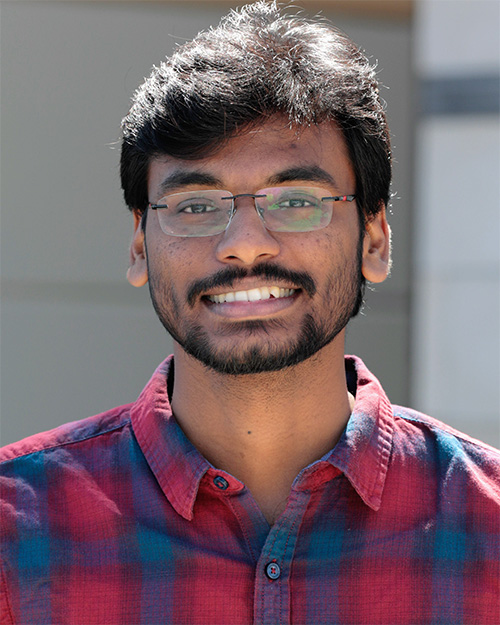 Srikar Gunisetty
The Productivity Ninja
When a bank lends a student money to make a college education more attainable, it assumes a certain level of risk.
Srikar Gunisetty (FlexMSBA '22) is focused on making sure that risk level is as low as possible.
Gunisetty is a lead data scientist with Discover Financial Service. His job is to lead a team of data analysts who help the company determine which students are most likely to pay back their college loans – and which students aren't.
The job is one Gunisetty said he would not have if not for UC San Diego's Rady School of Management's FlexMSBA program.
"I was able to land an offer right after the Capstone project," said Gunisetty, whose previous career path was in civil engineering. "Coming from a non-tech background, I attribute my placement entirely to the skills and knowledge I gained during the MSBA program."
He gained those skills and knowledge while maintaining his full-time job, growing close with a cohort of individuals facing the same pressures and challenges.
The FlexMSBA program is designed for business professionals looking to accelerate their career growth without leaving the workforce. It is a STEM-designated program, a certification given by the Department of Homeland Security to offerings aligned with important science, technology, engineering and math goals.
"Balancing my full-time job with the program was a real challenge, but it taught me how to manage my time like a pro," he said. "It's been a game-changer, keeping me balanced and energized, and making me a productivity ninja."
That productivity now comes with a wealth of responsibility at Discover Financial Service. Gunisetty, who joined the company in October 2022, said he was impressed with its training and security that strongly emphasized the importance for privacy and integrity among those with access to customers' personal information.
Gunisetty's days are a blend of meetings and collaboration with a variety of cross-functional teams. Those meetings, however, are far from the highlight for Gunisetty.
"The other half is where the real fun begins," he said. "I get to immerse myself in writing and debugging code. It's the perfect balance of teamwork and creativity that keeps me motivated in my role."
Yet it's a role he at one point never thought he would have. With a bachelor's degree in civil engineering from the Indian Institute of Technology Bhubaneswar, Gunisetty moved to the United States in 2015 and earned a master's degree from UC San Diego in structural engineering in 2017 before deciding to pivot his focus to data.
Rady's FlexMSBA program stood out immediately, he said.
"I was drawn to its practical approach of leveraging data science to tackle real-world business challenges," he said. "The MSBA admissions team went the extra mile by organizing engaging workshops that allowed prospective students like me to interact directly with the faculty, cementing my decision to choose Rady."
It's a decision that paid off immediately.
Gunisetty said the lessons learned in the FlexMSBA gave him a new way of thinking that he uses daily in his job with Discover Financial Services.
"The impact of the business lessons and case studies taught in the coursework surpassed my expectations," said Gunisetty, who began the program in August 2021. "This newfound mindset granted me a deeper understanding of my company's operations and accelerated my ability to absorb domain knowledge swiftly."
Because of the difference the program has made on his life, Gunisetty recommends it to prospective students looking for a boost in their career.
"Rady's MSBA program is perfectly designed to accommodate people from all walks of life," he said. "The breadth and depth of the coursework will give you enough confidence to aim for any role, regardless of the industry."