Bosco Luján – Flex MBA 
Rady Alum Named to Distinguished List of Latino Leaders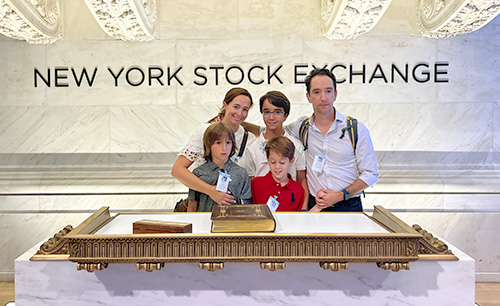 Luján with his wife and sons at the New York Stock Exchange
Bosco Luján (MBA '12) is among a select group of influential Latino professionals in the San Diego region who have been recognized for their impact on the community and their achievements in business, healthcare, tech, law and education. The recognition is a joint effort of the San Diego Business Journal and the San Diego County Imperial Valley Hispanic Chamber.
When asked about his reaction to being included on the Latino Leaders of Influence Top 50 list for 2022, Bosco Luján is characteristically humble and understated.
"I was honored that someone had nominated me, humbled to be listed amongst a very distinguished group of individuals, and thrilled by the fact that someone who grew up in Tijuana can make it to this San Diego list."
The recognition comes as no surprise for those who know Luján. The Rady alum has made his mark as senior vice president at Morgan Stanley where he has carved out a niche clientele of high-net-worth international clients. He is active in the San Diego community on multiple fronts. He's a dedicated dad who coaches soccer at a school attended by two of his three sons, serves as a member of the Dean's Advisory Council at the Rady School of Management and brings his expertise in finance to the boards of nonprofit organizations in the region.
Binational and Bicultural
Luján grew up in Tijuana in a close-knit family with one sister and six brothers, one of whom is his twin. For four years, he made the cross-border journey to San Diego to attend St. Augustine High School in North Park.
"My parents were very involved with our upbringing," he said. "My dad worked very hard to support the family, an example of a great work ethic. There was a lot of camaraderie with my siblings. We supported each other and learned from each other, whether it was sports or academics. Growing up with a twin was really special, it's like having an identical soul."
After receiving his bachelor's degree in industrial and systems engineering from Tec de Monterrey in Monterrey, Mexico, Luján worked in the packaging, beer and advertising industries in Los Angeles and New York, and partnered with a friend in an entrepreneurial venture to sell Italian kitchens in Tijuana. A job offer from a boutique wealth management company, Investment Placement Group, brought him back to San Diego.
"I had the sales and account management experience, the missing piece was finance," he recalled with a laugh. "I came into this job in 2008, right at the height of the financial crisis, not knowing the difference between a bail bond and a corporate bond or any kind of bond. I had to learn all that and had a great mentor in the firm's CEO, Adolfo Gonzalez-Rubio."
Making the Most of Opportunities
The quest for a solid foundation in finance led Luján to enroll in Rady's Flex MBA program. It proved to be an incredible experience both in and out of the classroom.
Lujan's days began at dawn when the financial markets opened and ended late at night after classes. He leaned into the Rady community – making the connections between finance theory and practice, exchanging ideas with professors and fellow students, and playing for the Rady soccer team he founded against MBA teams nationwide.
A few years after graduation, major banks came calling. Luján chose to join Morgan Stanley.
"I wanted to be a financial advisor because I wanted to provide unbiased advice to my clients," he said. "Morgan Stanley had a strategic commitment to wealth management, and from my own due diligence, I concluded, the best talent pool in the market." 
His Rady MBA, the drive to succeed, willingness to learn and the vast network of mentors, associates, and colleagues he has forged across the country and internationally has propelled Luján's career at Morgan Stanley. He serves as senior vice president and chairs the company's international wealth management advisory council.
"One of the things I love about my work is that there is new information to assimilate every day," he said. "There's new data to analyze, new skills to learn. The biggest challenge is you have to stay updated constantly. You can't skip a beat because you are competing against people who work very hard, read and prepare themselves."
In order to stay current in his field, Luján attends professional conferences, has gained several professional certifications in investments and audits classes on an ongoing basis at Rady. One class that made a deep impression on him was MGT 421, taught by Michael Berthelot, former CEO of a multinational manufacturing entity. Luján learned how boards of directors work, the importance of corporate governance and the role of the CEO. He has put that knowledge to practice in his work as a member of San Diego-area boards including Mater Dei Catholic High School of San Diego and Mingei Museum in Balboa Park where he served as a board member until recently. He continues to be involved with the Mingei as a member of its investment committee.
Luján is a devoted husband and dad of three sons. He is quick to acknowledge that none of this would be possible without the unconditional support of his wife Debbie, who stays home to raise their children, including their special needs son Marcelo.
It's been more than a decade since Luján received his MBA but his connection to the Rady community is only getting stronger every day. He has been part of Rady's engagement across the world, making trips with top administrators and alumni to promote the school and to connect with alumni and businesses overseas. One of his fondest memories is his trip to China and Japan with the Rady contingent that included Dr. Ernest Rady. Luján has also traveled to Israel as part of an immersion program and has visited his native Tijuana to promote the school.
Rady has had a long-lasting impact on Luján. "Staying involved with Rady, being part of the alumni board, being on the Dean's Advisory Council, interacting with Dr. Ernest Rady – the benefit of going to Rady has been even greater as an alum than as a student."