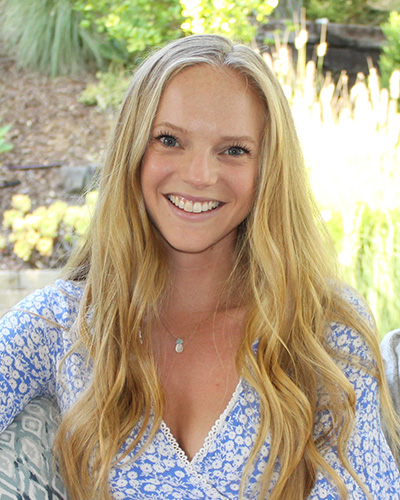 Lauren Hackney
FlexEvening MBA
How would you describe your "Life at Rady"?
I moved to San Diego specifically for this program and I could not be happier. Standing on the second floor and looking through the immaculate Rady buildings to the Pacific Ocean *pinch me*. Besides the incredible location of Rady and the lifestyle that San Diego offers, I have had the opportunity to learn from and network with students of different backgrounds, industries, and functional areas of expertise. I have also received an incredible amount of support from many professors who are eager to help students with work and entrepreneurial endeavors long after the course is completed. Rady also provides many opportunities to help students with entrepreneurial ventures through the Center for Social Innovation and Impact (CSII). 
What was your favorite course and why?
By far my favorite course was MGT 459 Topics in Innovation: Bringing a Product to the U.S. Market. This was an immersion course in San Diego that was organized by The U.S.-Israel Center on Innovation and Economic Sustainability (USIC) at the Rady School. Rady graduate students partnered with Israeli graduate students to learn about start-up companies as well as innovation and sustainability. All students were assigned groups to work on a case study over a 48-hour period at a resort in San Diego; then, we presented to a panel of expert judges. Not only did I learn so much from my Israeli counterparts, but I also gained lifelong friendships and can't wait for the Israel immersion in Winter to visit everyone. 
What other schools and departments at UC San Diego did you collaborate with?
In my first year at Rady, I participated in the Scripps-Rady Ocean Plastic Pollution Challenge. This was a partnership between Center for Marine Biodiversity and Conservation, Scripps Institution of Oceanography and the Center for Social Innovation and Impact (CSII) at the Rady School of Management at UC San Diego. This was a six-month program in which individuals from all over the world came together to focus on identifying effective, evidence-based approaches to curb the flow of plastic into the ocean. Additionally, I participated in StartR Impact and StartR Rady through the Center for Social Innovation and Impact (CSII). StartR is an accelerator program that features a series of workshops that include relevant speakers as well as an opportunity to receive guidance from program leaders and mentors. It's a great opportunity for those forming their own business!
How did you form community and create a network at Rady? Were you part of any clubs or organizations?
For my first year at Rady, most everything was remote due to COVID. Even in this circumstance, students found ways to connect via virtual coffee chats or get-togethers at parks. This really helped me create deep connections with a lot of individuals in my cohort. Additionally, when everyone starts at Rady, they are placed into a study group. I became really close with my group and we would meet up when we had time outside of work and school. Once COVID restrictions were lifted, Rady, as well as clubs on campus, started to hold more events, which was a great opportunity to meet students from other cohorts. In my first year, I joined the Net Impact Leadership team and became a member of Women of Rady.
Did the analytical focus of the faculty and coursework help to prepare you for your career? 
My undergraduate degree is in social sciences, and I always knew that I wanted to get my MBA to gain an analytical perspective on problem solving. This focus at Rady has trained me to think from a systems approach. This has played out well in the new business that I am launching and will continue to serve me in all of my ventures.