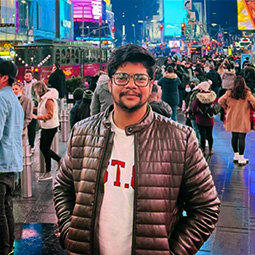 Tanmay Kothari
Taking Advantage of Rady's Opportunities


As Tanmay Kothari nears his graduation from UC San Diego's Rady School of Management's Full-Time MBA program, the list of skills and experiences he can showcase to potential employers has grown exponentially.
There are, of course, the in-class lessons he can now apply in a variety of industries. Then, there are the hands-on experiences that are part of the curriculum and the leadership opportunities he's tackled in several of the program's clubs.
And if that's not enough to catch a hiring manager's attention, he can talk about his internship at a cutting-edge auto manufacturer that just might set the new standard for electric vehicles.
The bottom line for Kothari? He found in the Rady MBA program exactly what he hoped for when he made the decision to attend.
"Rady's emphasis on hands-on learning opportunities allowed me to apply the concepts and theories I learned in the classroom in real-world contexts," he said. "I gained invaluable practical skills and insights that I could not have obtained through coursework alone."
Kothari came to Rady from India, where he earned his bachelor's degree in engineering and information technology in 2016. From there, he ran his own ecommerce company, Sapiens Lifestyles, a clothing e-tailer in India. At the same time, he was also working as an associate consultant with one of the leading tech consulting firms in India.
That Rady's MBA program is STEM-designated by the U.S. Department of Homeland Security made coming to the United States to further his education and further his career an even more attractive option.
"This designation allows international students to extend our stay in the U.S. after graduation and pursue opportunities in our chosen field," he said. "Not only does this help us to gain valuable work experience, but it also provides an opportunity to contribute to the U.S. economy and society in a meaningful way."
The school's San Diego setting was another huge plus for Kothari.
The city has everything a young professional could ask for, he said, from the picture-perfect year-round climate to the business opportunities in a wide range of industries.
"San Diego truly has something for everyone," he said. "It is an incredible destination that offers a unique blend of natural beauty, cultural richness and economic opportunity."
That doesn't mean Kothari found himself lost for great lengths of time on the nearby beaches. Rather, Kothari jumped into just about everything the Rady MBA program has to offer. Among them, Kothari has served as the president of the Supply Chain and Operations Club, advisor for the Data Analytics Club, and vice president of alumni affairs of the Rady Student Association.
Kothari also interned at Aptera Motors, a crowdfunded auto manufacturer building a battery electric vehicle (BEV) that features embedded solar cells. Prototypes of the vehicle have seen a range of up to 1,000 miles.
Because the average American drives around 35 miles per day, the vehicle's solar array, which adds an estimated 41 miles to the daily range, could make the vehicle one that rarely needs charging.
"Being able to contribute to the development of such a groundbreaking product was truly an honor," he said. "The experience allowed me to gain valuable insights into the inner workings of a cutting-edge industry."
Coupled together, the in-class learning and outside experiences have coalesced to make Kothari an enthusiastic advocate of the Rady MBA program for prospective students.
Its emphasis on creating leaders who can work across traditional department boundaries helps turn students into better business thinkers, he said, and the program's strong connection to industry strengthens students' networks.
"Rady offers a unique and challenging MBA experience that can be incredibly rewarding if you are willing to put in the effort," he said. "Be prepared to work hard, and be open to learning and growing, both personally and professionally."