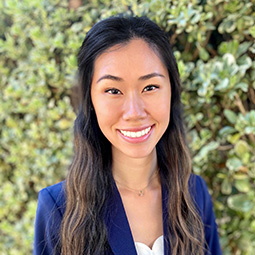 Angela Wan
MBA
MBA '21

Originally from: Los Angeles, California

BSN in Nursing – University of Pittsburgh

Previously worked as professional staff nurse at Children's Hospital of Pittsburgh
Angela Wan (MBA '21) was honored to spend three years as a nurse at Children's Hospital of Pittsburgh. During that time, she experienced the highs and lows of how the business of any hospital can impact the men and women who work and are cared for within the hospital.
In 2019 she decided to put down her scrubs and enroll in UC San Diego's Rady School of Management, where she wanted to learn how to "help hospitals do better by their patients and employees."
Today, Wan is an advisory associate with KPMG'S Healthcare Operations team. In that role, she focuses on finding solutions for hospitals that will help them operate more efficiently and provide optimal care for their patients to ultimately improve patient outcomes and health.
Wan, who was named one of Poets & Quants' "MBAs to Watch in 2021," shared why she made the career change, why she chose the Rady School for her MBA, and how the Rady team helped her pivot from nursing to consulting.
Why did you decide to leave nursing and pursue your MBA?
My clinical experience allowed me to see firsthand how the business administrative side, like specific policies, shifts to new technologies, etc., have both a direct and indirect impact on patient outcomes, employee satisfaction, and retention rates. It was disheartening to see patients, families, and coworkers being let down by poor hospital management. I decided to pursue an MBA to be better equipped to enact change from an administrative and organizational level to help hospitals do better by their patients and employees.
What was it about the Rady School that appealed to you?
Being located in San Diego — a major biotech and healthcare hub — was a huge perk. I saw it opening up more opportunities to network and become immersed in the life science and medical industries. In addition, the wonderful weather and proximity to the beach were also a welcome change after having lived on the East Coast for the previous seven years.
How were Rady faculty and Careers staff able to help and support you through navigating your career change?
Rady's Career team was pivotal in my internship and job hunt. What I loved most was they didn't hesitate to go above and beyond for me, whether that was connecting me to recruiters outside of Rady events or putting in a good word to interviewers. Rady faculty were also enthusiastic to help out in the job hunt. They also brought in guest speakers from the industry for us to connect with or would make private introductions for us.
How else did Rady prepare you for where you are today?
Rady emphasizes innovation and entrepreneurship, as evidenced by the Lab to Market capstone. Although I came into the program with no intention of becoming an entrepreneur, that was one of the most valuable skill-building courses I took. Everything that we learned in the program, like finance, strategy, and marketing, was put to the test in what could be described as a multifaceted, large-scale consulting project. It was some of the hardest work I've ever done, but it also helped me feel more prepared to enter the field of consulting.
You were supposed to intern at Gartner Consulting, but it was canceled due to the COVID-19 pandemic. Instead you went back to Children's Hospital of Pittsburgh for four months to offer nursing support. Why did you make that decision?
I felt unfulfilled and unsettled as I watched news about the healthcare worker shortage and heard firsthand from friends and previous coworkers about the number of COVID-19 deaths they were seeing each day. In some ways, I think the internship cancellation was a blessing in disguise. I was able to practice medicine and care for patients again, a passion that still stayed with me throughout the MBA program. I got to appreciate the importance of teamwork and adaptability in an ever-changing and stressful environment but was also reminded of how important a hospital's strategy and response are during an unforeseen incident of this magnitude.
What advice would you give someone considering Rady?
While Rady may be a younger business school compared to others, don't discount the value it can bring to you. Its connection to the larger UCSD network brings so many great resources and opportunities. Network a lot and give everything your best effort — it won't go unnoticed.