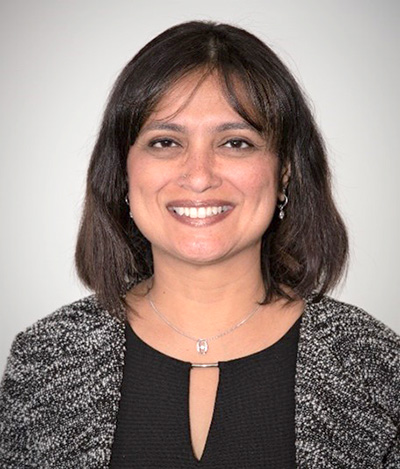 Vidya Rao
FlexWeekend MBA
How would you describe your "Life at Rady"?
I started my MBA during the COVID-19 pandemic, in a lockdown and in a remote/online modality. This was certainly not the experience I had signed up for, but Rady and UC San Diego made it possible for us to make the most of the situation. Tools and technology were set up to ensure we felt supported and successful in this model, and I must say, it turned out to be not only enjoyable but also extremely beneficial. That experience prepared me to be successful in leading and influencing my organization while being remote. My life lesson from Rady is going to be networking, leading, influencing and collaborating in a remote-first and online world. 
What was your favorite course and why?
Several courses have been my favorites at Rady but if I had to pick one, it's Digital Disruption and Transformation, taught by Visiting Associate Professor Thales Teixeira. This course taught us to look at many traditional markets, how they have been and continue to be disrupted by the digital medium, and what incumbents can do to combat such disruption and even stay ahead of the game. I truly enjoyed hearing from the protagonists of the cases we studied and discussed in class, who gave us valuable nuggets of information. In the quarter that I took this class, I also changed my job — I decided to take up a role in eCommerce and my interest in this domain was largely fueled by the case studies we discussed in this class. 
What other schools and departments at UC San Diego did you collaborate with?
My Lab to Market project is a research study building a business plan for a company founded by a Ph.D. student from the Jacobs School of Engineering. Several other folks working with the founder are from the engineering school as well, and I find the caliber of the students to be outstanding.
How did you form community and create a network at Rady? Were you part of any clubs or organizations?
I am blessed and grateful to be the representative of my cohort. In this role, I get to be the bridge between my cohort and the Rady administration. This has provided me with several opportunities to network with my cohort and others. I have participated in networking events hosted by the Rady Marketing Club, Supply Chain Club, Tech Club and Product Management Club. These opportunities have allowed me to build my network, form several strong friendships, and provided me with connections that I can lean on for advice, future opportunities, and career growth. I am also part of the Vistage on Campus program, which is exclusively available to Rady FlexMBA students. This has been such a blessing, since Mark Fackler, the founder of this program, brings in brilliant entrepreneurs who we get to interact with and learn from while also networking with our peers.
Did the analytical focus of the faculty and coursework help to prepare you for your career?
Several courses like Quantitative Analysis, Operations & Data Analysis, Customer Analytics, and Pricing Analytics have directly contributed to my success in my previous role as Lead Product Manager at Teradata Corporation. In my current role as Product Technical Program Manager at Meta, I expect to continue to use my knowledge of data analytics to make decisions and drive marketing/pricing experimentation. I am immensely grateful for the STEM aspect of the Rady program as it has directly contributed to growth in my career.