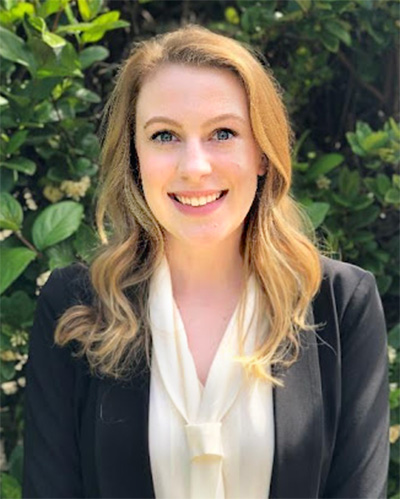 Kayla Winter
Finding renewed confidence
Kayla Winter (FT MBA '22) learned time can be a funny concept when you're marching toward your graduate school degree.
During her time in UC San Diego's Rady School of Management's Full-Time MBA program, she spent 10 months interning in the sales and marketing department of biotech startup Fluxergy. Because of its startup status, Winter experienced different areas of the business — far more than she thought she would in less than a year.
"It was fast paced, so I had several different types of projects that were quite diverse in the skill set required and the type of work I was doing," she said. "I feel like in those 10 months I gained at least one-and-a-half to two year's worth of experience."
That experience was enhanced by the Rady program.
Winter said she enjoyed the smaller cohort size compared to many other programs and that the experience level of the students matched well with her own. Prior to starting the program, Winter was using her bachelor's degree in psychology as a behavioral interventionist for children with Autism Spectrum Disorders.
"I appreciated the age and experience level being a bit younger than some of the other schools I looked at," she said. "It was reassuring since I was pivoting from a different area of study and work."
The class that made the most impact on Winter was Rady's signature capstone course. Split into three parts, the course begins in the classroom and moves into a project-based environment. It allows students to apply their MBA learning in a real-world scenario, examining a variety of ideas to select one that has the best potential to be marketable and scalable.
Students then work in teams alongside external advisors and coaches to bring that idea closer to fruition.
Winter said hands-on learning opportunities were key to her selection of Rady to further her education.
"Rady does a great job in not only providing relevant and engaging curriculum but structuring it in a way that is much more realistic to what you need to do working in that specific field," she said. "Every class of mine at Rady focused on assignments to mimic the real working world."
Now she's living and working in that real world as an associate manager of marketing operations for ecommerce at Walmart Connect, the US arm of Walmart's global advertising business.
She credits her time at Rady as helping her get where she is — and become who she's become.
"One of the big lessons I learned was that challenging yourself, whether it is personal, professional, or academically is the fastest way to grow," Winter said. "In life, we never stop learning and growing, and I think getting an MBA reignites that perspective."
Winter encouraged anyone else looking to reignite that perspective to do so at Rady.
"Successfully completing something as challenging as an MBA — or even specific graduate classes — reminds you of the incredible things you are capable of," she said. "This encourages you to continue to challenge yourself in your career and life."