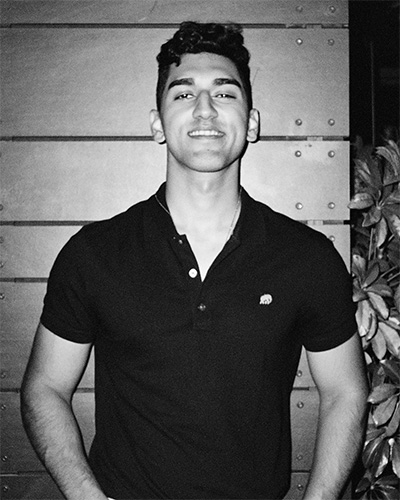 Nizam Khan
Making the right choice
As Nizam Khan (MPAc '20) proceeds down his career path, he finds himself repeatedly intersecting with one familiar face: James Deiotte.
It was Deiotte who, as director of UC San Diego's Rady School of Management's Master of Professional Accountancy (MPAc) program, impressed Khan so much that he decided to continue his education with what was then a newly established offering.
Now a graduate of the MPAc program, Khan is a senior consultant at EY, the Big Four accounting firm from which Deiotte retired as partner in 2019 after a nearly 20-year career.
Perhaps unsurprisingly, Khan finds it easy to sing Deiotte's praises, and it all goes back to when he was trying to decide where to attend graduate school.
"After I met with James Deiotte, my opinion completely shifted," he said. "I saw the clear mission and vision he had: Help the students find purpose and meaning within their future careers."
The thought of having one-on-one time to discuss his career aspirations with someone who had reached the highest levels of a Big Four accounting firm appealed to Khan, who began the MPAc program in 2019.
The experience did not disappoint, Khan said, and his admiration for Deiotte expanded to include the faculty of the MPAc program.
"The Rady faculty take a genuine interest in the work you are performing and the results of your work," he said. "They provide detailed feedback and advice on how to improve on the work, something I definitely would not have received at any other program I was considering."
That feedback and the project-based curriculum that puts students in similar situations to what they will find in the working world helped prepare Khan for the opportunity at EY. He joined the company shortly after graduating and has already been promoted twice.
Khan's current role has him working with EY clients to identify potential areas vulnerable to financial fraud. He said he enjoys the variety found in the role of a senior consultant.
"The most exciting part of my work is having the ability to wear multiple hats on the same project," he said. "We are providing solutions to the various pain points our clients face on a day-to-day basis, and it is a very rewarding feeling to help alleviate our client's problems with the solutions we provide."
Khan said he leans on the lessons he learned in the MPAc program to help him develop those solutions.
The program's project-based curriculum, which creates many opportunities for students to hone their presentation skills, played a huge role in the success he's found so far at EY.
"At Rady, the class sizes are smaller, which allows for more student presentations," he said. "This experience directly translated over to my career, as I now present to clients and lead client meetings on a week-to-week basis."
Because of his own experiences, Khan is a strong supporter of the MPAc program to those seeking to further their education – and receive one-on-one time with an accounting veteran like Deiotte.
"Any prospective student considering Rady should know they will receive a personalized and hands-on experience from the faculty and James Deiotte," he said. "If students are not sure about answers to their career questions, they will definitely find them in this program."