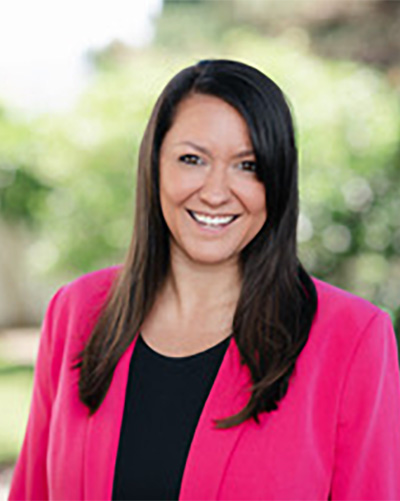 Ilo Neukam
Finding a Balance For Work, School, and Family
Ilo Neukam (FlexWeekend MBA '23) was already four years into her role as founder and chief marketing strategist of The Collective, a full-service marketing firm, when she joined Rady. It was the Quantitative Analysis and Research for Marketing Decisions courses that allowed her to boost her data science knowledge and apply real customer needs to her classroom learnings.
"I was able to analyze my client's data for our final project and present those findings to them, which they were able to act on," she said. "I was literally able to bring my professional work into the classroom."
That professional work was born from the changing tide in the marketing world.
Neukam worked for several brand and digital agencies leading up to 2017. She said she started seeing many talented people leave to start their own agencies as companies trimmed in-house creative departments and moved from long-term partnerships to per-job contracts.
"I saw an opportunity to start a marketing firm that provided strategy and project management while leveraging a network of creative business partnerships to help execute on the client's vision and needs at an affordable, yet profitable cost," she said.
With that, The Collective was born.
"I work closely with our clients to develop holistic marketing strategies that work within their budgets, timing and business goals," she said. "Once a plan is approved, I then build and manage a team of creative strategists to help execute on the established plan. In addition to that, I lead our team of amazing account managers and develop new business for the firm."
 The Collective works with clients ranging from startups to Fortune 50 companies, and in industries as varied as biotechnology and education to banking and hospitality.
In 2022, Neukam was named one of the San Diego Business Journal's 40 Next Top Business Leaders Under 40.
Neukam credits the FlexWeekend MBA program with enabling her to better lead her successful and growing company. The decision to join was based on a variety of factors.
One was the program's STEM designation, a recognition by the U.S. Department of Homeland Security of academic programs with a strong focus on science, technology, engineering and math. The program's connection with the San Diego business community, particularly in biotech and innovation, added to the allure.
"While other schools seemed to be rooted in old-world thinking, Rady was pointed toward the future and what could be," she said. "This emphasis on innovation and shaping business leaders for the future and potential of business – particularly bringing women to the table – really spoke to me."
So Neukam added "part-time student" to the collection of hats she was wearing on a weekly basis, a collection that already included wife, mom and business leader.
Each of those hats is incredibly valuable to her, and while it was a juggle to balance time between each of her responsibilities, she said the opportunity to build relationships within the Rady community is an opportunity she will always appreciate.
"I've been surrounded by some incredible classmates and professors," she said. "The students in my cohort were renowned physicians, engineers, data scientists and more who I can now call peers and classmates. The network I'm walking away with is invaluable."