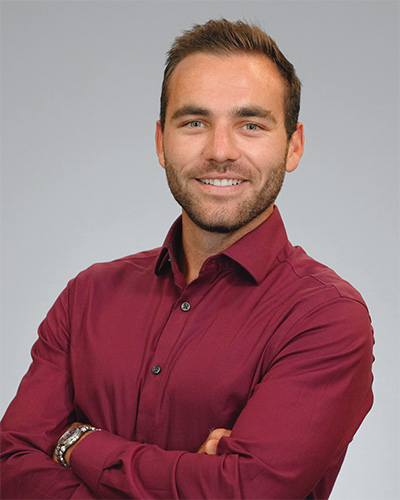 Dylan Campbell
A Business + Science Success Story


Dylan Campbell (FT MBA '23) has always had a passion for life sciences and biotechnology, so when he considered applying to business schools, he wanted to find one with deep connections to that community. 
He found that and more at UC San Diego's Rady School of Management.
Campbell was drawn to Rady's Full-Time MBA program because of its proximity and involvement within San Diego's biotechnology hub. He made sure to leverage Rady's location as a student — a decision he is now benefiting from today.
Campbell is a senior global segment marketing manager for clinical oncology testing at Illumina. He interned at the company while at Rady, and then secured a full-time job after graduation. He was promoted to his current role in April.
"My focus is on developing and deploying go-to-market strategies for new products that are designed to provide insights into the specific genetic alterations present in cancer," Campbell said. "The role has been a great way for me to blend my technical, scientific background and interests with the new skills I've gained from the MBA."
When Campbell started as an intern at Illumina, he had no experience with oncology or DNA sequencing. Spending the summer working with the market development team gave him the chance to become better acquainted with the complex topic and market. He also was able to experience the company culture and build relationships with organization members he now works closely with.
At Rady, Campbell's favorite course was Biotech industry, Structure and Strategy.
"What I loved was that each class was on a unique topic relevant to the biotech industry," Campbell said. "I enjoyed our class discussions around why and when it makes sense to partner versus buy or build. Getting to hear from industry professionals who were guest speakers with storied success in this realm was incredibly valuable."
The most important takeaway from the class for him was how important it is to understand the roles and responsibilities of each function within an organization. This was a theme he felt persisted throughout his time at Rady.
"The aim is not to be an expert in one thing, but rather a generalist with knowledge in each function of the business," he said. "This way, you get a more holistic view of how a business provides and captures value, and the various levers to pull to improve upon that value creation and/or capture."
Campbell felt he had a good understanding of the Rady community prior to starting classes thanks to several informational interviews he conducted with students and alumni. What surprised him, though, was the caliber of the faculty and his classmates.
 "I learned that the faculty were second to none, many of whom have come from world renowned business schools like Harvard Business School, Haas, Wharton, and Booth," he said. "I was also intrigued by the smaller class size that the school offered compared to some of the larger, older business schools. I felt it would give me a better opportunity to connect with my classmates and professors — and it did."
Those connections were put on display when Campbell was elected 2023 Full-Time MBA Cohort Representative. In that role, he served as a liaison between the student body and the Rady faculty and staff. He coordinated communications between both groups and also was involved with organizing social events across the Rady community.
He credits Rady with preparing him to succeed and giving him the opportunity to make a difference, both personally and professionally. 
"I have been fortunate to have had very impactful mentors throughout the beginning of my professional career, and with time and experience, I aspire to be a professional mentor myself," he said. "As with many MBAs, I ultimately hope to earn a C-suite executive position in my field. But, more meaningfully, my aim is to lead teams in delivering products and solutions that can have a significant impact on improving human health."