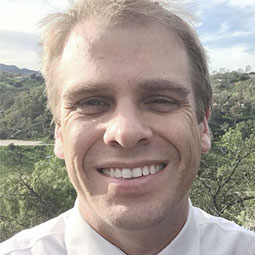 Daniel

Gregory - FlexEvening MBA
Accelerating My Career at Google Fiber


FlexEvening MBA '20
Webpass senior systems operation manager at Google Fiber
Previously worked as a systems administrator at Google Fiber
The Rady School of Management's FlexEvening MBA program is designed for students to learn and grow while still working full-time. Daniel Gregory (FlexEvening MBA '20) did that — and then some.
"With the Rady FlexEvening program, I was able to start a family, work full-time, and complete an MBA, without terribly disrupting my life," he said.
Daniel entered the program as a systems administrator at Google Fiber and left as a systems operation manager. Today he is a senior systems operation manager at the company, where he leads a team of Linux systems administrators and DevOps engineers. He talked about what he does in that role and how he applies lessons learned from Rady into his work today. 
What does the Google Fiber Webpass team do?
We help residents and businesses by offering blazing fast, simple internet in urban areas. We do this by creating our own ethernet network and by making it affordable and reliable. We manage the core systems infrastructure required of any ISP, such as dynamic addressing and name resolution. We also support the backend internal and customer facing web-services infrastructure and various other systems-related components to ensure a great customer experience.
What do you enjoy most about your work?
I always think about Hackman and Oldham's Job Characteristics model — autonomy, feedback, skill variety, task identity, and task significance — when I consider the job satisfaction that working for Google Fiber Webpass provides. We really have an opportunity to score highly on all five factors. As a manager, I increasingly enjoy watching employees develop and I love feeling like I'm playing a key role in creating a great Googler experience.
What role does data — and the ability to translate that data — play in your work?
Data drives every decision at Google Fiber Webpass.  As a manager of a technology team, most of the data that we ingest is used to make decisions regarding resource allocation or service availability. For example, when to scale systems or network resources, which resource constraints need to be taken into consideration when planning a project, and the type of resource commitments we should make to minimize costs.  
How did Rady prepare you for where you are today?
The Rady MBA experience helped me understand more broadly how leaders at organizations make decisions and the types of information that drive those decisions.  It helped me build a deep understanding of the disconnect that often exists between a business and its customers and how to diagnose and address it.
How do you like to describe San Diego as a place to study, work, and live? 
I can't imagine a better place to study, work, and live. Despite being a relatively large city, San Diego still maintains a little bit of that trademark sleepy seaside atmosphere that the town was known for years ago. For me, there's something about the promise of sunlight and easily attainable recreation that make hours of studying and working seem more bearable. I recall carrying my books, beach chair, and an umbrella up the coast to little hidden beaches — ideally at low tide — and studying for hours by the sea, breaking to swim occasionally. You just can't do that in most places. 
What advice would you give someone considering Rady?
You'll have a once-in-a-lifetime opportunity to build strong ties with your Rady network. Seek balance in your life between studies, work, and family so that you are able to nurture relationships with your Rady cohort and network.  
Is there anything else you'd like to add?
If you have a strong work-ethic and are willing to directly challenge the status quo, come to Rady. You may be surprised how in-demand those two assets are in some parts of the world.