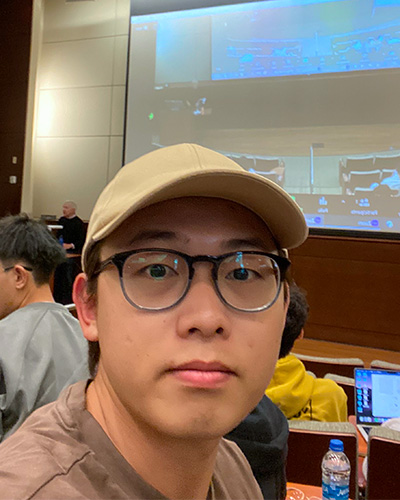 Hanbo Wang
Expanding His Academic and Personal Horizons
Hanbo Wang (MFin '23) has become comfortable outside his comfort zone as he pursues his master's degree through UC San Diego's Rady School of Management's Master of Finance (MFin) program.
The lessons he is learning are coming from inside and outside the classroom.
Wang joined the MFin program after earning his bachelor's degree from UCLA. In between, he took a year away from school and said those days provided much-needed life lessons.
"It turns out that the gap year would be a year that I consider one of the most important periods in my life," he said.
During that time, he became a voracious reader, plowing through 80 books. While he was filling his mind with new knowledge, he also began training his body, turning to running to build his endurance.
Then, in the second half of his gap year, he interned with an investment bank in China.
"I think I learned a lot from doing the real world," he said. "The encouragement I received and the (work I did) really changed me in a lot of ways."
Those changes helped prepare him for the rigors of the MFin program. He said he chose the program largely because it is STEM Designated, an honor earned from the U.S. Department of Homeland Security for its focus on science, technology, engineering, and math.
Wang's first MFin quarter proved challenging, as he adapted to the workload and pushed himself further out of his comfort zone. He said his natural preference is to work alone but that he has found tremendous value in collaborating with classmates.
That's been important for Wang, who considers himself a shy person.
"I am really fortunate that my teammates are friendly," he said. "The group's work quickly turned us into friends."
Besides developing positive relationships with his classmates, Wang found benefits to the quality and quantity of the work his groups have been able to produce.
"Collaboration shines when you just can't finish all the work by yourselves," he said. "Collaboration can be great if you are working with the right people in the right way."
Wang has adapted to the challenging work and is enjoying how the MFin program allows students to pursue varying paths on the route to graduation. While he's charting his course, he's taking advantage of networking opportunities and has become president of the Rady Finance Club (RFC).
"I realized that it is rewarding to meet new people. You could have a great conversation with strangers and learn about their stories," he said. "I thought RFC could help me do that, and I could also take advantage of RFC to contribute to the community in the way I want to."
Beyond that, the club is giving him an opportunity to hone his public speaking and leadership skills, he said.
Wang isn't exactly sure what he wants to do with his degree once he graduates. Right now, he's deciding between pursuing a PhD in finance and becoming a consultant.
What he's learning in the MFin program will help him tremendously no matter the path he chooses, he said. He's particularly enjoying learning while living in San Diego, especially compared to his time in Los Angeles.
"It's modernized, you find the amenities you want for a city, great weather and, most importantly, light traffic," he said. " If I end up living in California, I would want to live in San Diego."