Anshul Sachdev – MSBA 
Consider Him INTUITive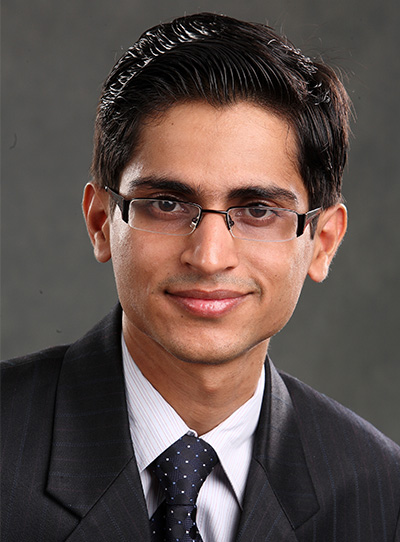 Anshul Sachdev (MSBA '21) knows analytics—and believes one of his best analyses was the one that led him to choose the Rady School of Management
People's finances can literally depend on Intuit. And that works for Anshul Sachdev. As Sr. Manager, Data & Analytics, Sachdev credits the Rady School of Management with an encouragement of efficiency and thorough assessment that helped him lead a breakthrough for one of the company's most visible financial products.
"In one of its service offerings, they divided up finance professionals into multiple small groups. The concepts I learned in Dr. Hyoduk Shin's supply chain classes immediately helped me identify that this is a major cause of idle time and inefficiency. To solve for this, I recommended consolidating the multiple teams into one large team," said Sachdev, who received his MS in Business Analytics from the Rady School of Management in 2021. "I analyzed that having multiple teams was leaving people waiting. It was actually better to just serve people as one team. I was able to prove it and that it would be more profitable. The change has had a beneficial result."
One of the major challenges in the role is learning the art of narrative to understand how to communicate to others why something might be a better way of doing things. "It's not just what you say but how you present it," he says.
At Affine Analytics, where he was previously Engagement Manager from 2017 to 2020, he had a chance to work on analytics for famed Kelley Blue Book. "Here is a subscription model where the main customers are used car dealers facing the problem of changing competition," says Sachdev, who grew up in India. "The thought at hand was if they should offer a discount to dealers and how much. We broke down subscribers into different segments to analyze what would be an optimal recommended discount. Here it's about understanding the human psyche; going beyond just numbers and solving problems."
And he notes that Rady was constantly having him solve problems to improve analytical thinking rather than just giving the answers all the time, citing Professor Vincent Nijs as a leading proponent of this self-sufficiency. "It was like we had to get from one bank on a river to the other bank and all Professor Nijs would hand you was a broken bridge to cross it," he says. "Just when you think you'll drown he would swoop in and save you with his guidance and his motivation. The school teaches you to have confidence in yourself and dig deep for your own professional growth. His teaching was very interactive and not simply about providing the solution but for students to come up with a variety of solutions."
Another great lesson from the Rady School that he remembers was about simplicity. "I remember an exercise where you could choose for consumers to get an offer for a product of 99 cents for one month or the other offer of $3.99 for three months," he says. "I thought that the 99-cent option would be the one chosen but actually by conducting analytics we found more went for the $3.99 offer. Here is that consumer psyche coming into play, that they wanted more time to learn the value of the product and weren't just driven by the lowest cost. You take that with you going forward. You thought you were right, then surprise."
Sachdev has heard from classmates that the internship opportunities that have come from extending the length of the program by a quarter have had a measurable effect. "Previously, you'd hear about getting jobs after the program with salaries of $70,000 to $90,000, but I'm hearing about my classmates getting jobs in excess of $120,000 and some more than doubling their previous salary after the program," he says. "I think it's been especially a big advantage for people who are international students because it gives them more time and a different way to get exposed to U.S. culture. It's a gateway to access high value jobs in impressive companies—the companies have a low-risk way to help the students acclimate. Many of these internships are translating to lucrative full-time offers."
Sachdev would recommend students from his country of India consider the Rady School of Management, especially if they have an entrepreneurial mindset. "It has an extremely strong ranking in entrepreneurship and the school provides open-mindedness and flexibility," says Sachdev, who also served as a Junior Associate and a Senior Associate while at Moody's Analytics Knowledge Services from 2005 to 2007. "I think it's hard to find a public university so cognizant of its students' individual goals."
Being located in San Diego also doesn't hurt.
"The weather is just incredible," he says. "My son was born while I went to Rady and you could take him out and enjoy the surroundings. You just couldn't ask for a better environment for attending school."
And the city hasn't hurt his cricket game either. "I fell in love with the game when I was working and it was terrific to find there were players for the sport out here also," he says. "That helped me feel even more welcome and engaged and it keeps you in good shape."
As far as keeping his career trajectory in its best shape, Anshul's goals for the future include climbing in analytics at a Fortune 500 company and putting analytics to work in blockchain and crypto to start his own firm.
His time at Rady? It continues to serve him well and he looks forward to keeping in touch with a school that opened doors to him and further opened his mind. 
"Rady wants you to grow, to think differently—even if that means differently than a professor," he says. "They want you to follow a thought to its conclusion, rather than just toss aside something with negativity. Seeing things through has led to some of the great accomplishments in business, and hard work is one of the hallmarks of the Rady School of Management. What's so important is they make sure to teach an attitude as much as techniques."