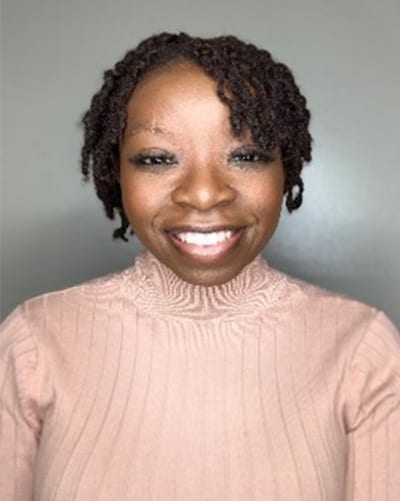 JeLissa Morgan
MPAc
How would you describe your "Life at Rady"?
My life at Rady was filled with unforgettable opportunities. Being surrounded by breathtaking views of the ocean, the beautiful Rady School of Management building, and great places to study, eat, exercise, and meet with other cohorts was an amazing experience.  This campus is filled with some of the most hopeful, encouraging, and thoughtful professors and faculty. I used those resources to positively mold me into a better version of myself in my professional and personal life.
What was your favorite course and why?
My favorite course at Rady was MGTP433: Current Issues in the Practice and Regulation of Auditing with Lecturer Bill Molloie, a former partner at PwC. He was engaging and looked forward to having conversations with us as young professionals in the classroom. He was the perfect person to teach this class with over 30 years in the profession of auditing, but he also brought in guest speakers for us to hear their perspectives and expertise as well. Teaching all the rules and regulations in auditing can be a little boring, I'll admit, but Mr. Molloie made it relatable, understandable, and palatable to grasp.
How did you form community and create a network at Rady? Were you part of any clubs or organizations?
The day I found out that I had been accepted into the Rady MPAc program I immediately filled out the form for Beta Alpha Psi, a nationally recognized professional organization for finance, accounting, and information technology students. I wanted to make sure I was able to receive not only different opportunities that could advance my career and strengthen my knowledge of accounting but also be able to give back to an organization that has helped me along the way. I also attended events hosted by the Black Resource Center and became a resident in the Black Graduate Living Learning Community (BGELLC). These two groups helped me navigate being in a new location with people of different backgrounds while being less represented in my field of study as a black woman in accounting. I was able to connect with other black people who are familiar with being the only black person in the room and these groups helped cultivate safe spaces to share our experiences.
Did the analytical focus of the faculty and coursework help to prepare you for your career?
The Rady School of Business Management was heavily focused on analytics. Our Director, Jim Deiotte, emphasized using our analytical skills. It was imperative that we used logical reasoning behind our research — ranging from ESG reporting to data analytics exploration. This helped me not just find the answer to solve complex problems in business but find the reasoning behind that answer. This helps me to better explain that topic of discussion with professors, cohorts, and soon potential clients as I transition into my role as an audit associate.
What are some examples of the hands-on learning (data tools, lab projects) you have experienced and enjoyed?
I really enjoyed MGTP-495: Collecting and Analyzing Financial Data. The class, taught by Assistant Professor Michael Reher, taught us to obtain data to answer financial questions. We are getting hands-on experience using software such as Python, Jupyter Notebook and using the Wharton Research Data Services (WRDS). To me, this emphasizes the need for accountants to really understand how important it is to analyze client's information beyond the surface level of financial statements. Also, having the opportunity to execute trades and perform analysis using the Bloomberg Terminal by taking the Bloomberg's Market Concepts Course as extra credit within this class was fascinating.