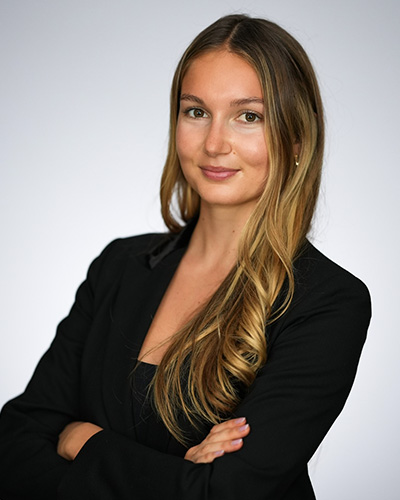 Marilena Vassalli
Not Your Typical Accountant-in-Training
Marilena Vassalli (MPAc '23) wants to bust some myths about the profession she is pursuing.
Vassalli is a student in UC San Diego's Rady School of Management's Master of Professional Accountancy (MPAc) program. To those who think accountants are just number crunchers, she is quick to offer her own experiences as a counterpoint.
"Accounting is much more about understanding an entity or a transaction, as well as business structures and processes," said Vassalli, who earned her bachelor's degree in accounting from the University of Washington in 2022 before starting the MPAc program later that year. "It is more complex than addition and subtraction."
To those who balk at choosing the profession because they think it is repetitive, Vassalli gives insights from her MPAc education, as well as her experiences as an intern at accounting firm Moss Adams.
The applications of accounting are, in fact, infinite, she said.
"Accounting can be used to solve complex problems by identifying and evaluating patterns and trends," she said. "Solving these problems often feels like completing a puzzle, which is especially satisfying as they relate to real-world scenarios."
And as far as those who believe that accountants themselves are bookish rule-followers whose idea of fun is a deep dive into an Excel spreadsheet? Vassalli shares experiences that show this is far from a universal truth.
Among those experiences are some that come from serving as MPAc cohort representative. In that role, Vassalli acts as a liaison between the faculty and her fellow students while also arranging social outings for her classmates.
"Since I entered this field, I have found myself surrounded by bright, funny and creative people," she said. "We've had some fun events, including beach days, hikes and happy hours."
Vassalli does become excited when she talks about the things typically associated with accountants and accounting. The MPAc program has enabled her to pull from a deeper pool of knowledge when she is discussing topics such as audits, flowcharts and different types of financial transactions.
"What appealed to me about the curriculum was its focus on current accounting applications and the profession's outlook," she said. "I had a strong, technical background in accounting, so I was seeking a master's program that applied those skills and prepared me for my career. The MPAc program has certainly exceeded these expectations."
Vassalli said the popular phrase in her chosen profession – that accounting is the language of business – is undeniably true and that learning the language more completely through the MPAc program has opened up a variety of career paths for her to pursue when she graduates.
"Accounting has enhanced my understanding of the business world," she said. "It has enabled me to interpret financial statements, analyze a company's decision-making processes and understand business media."
Vassalli plans to take that increased understanding and return to Moss Adams in a full-time capacity as an audit associate. What she has learned in the MPAc program has her even more prepared to tackle the challenge, she said.
The curriculum's focus on auditing procedures, internal controls and the role technology plays in the process has given her more skills to bring to the job. In addition, the MPAc faculty's focus on soft-skill development such as conflict communication and effective listening will make her a more valuable member of the Moss Adams team, she said.
She also has passed two parts of the four-part CPA exam and is hoping to complete the other two before starting her new job.
Because of the success she is finding, Vassalli is a strong advocate of the MPAc program to those looking to further their education.
"The MPAc program is a significant investment in yourself and provides invaluable opportunities for academic, professional and personal growth," she said. "These opportunities will not be handed to you freely. If you put your greatest effort forward, you will be rewarded in many ways."