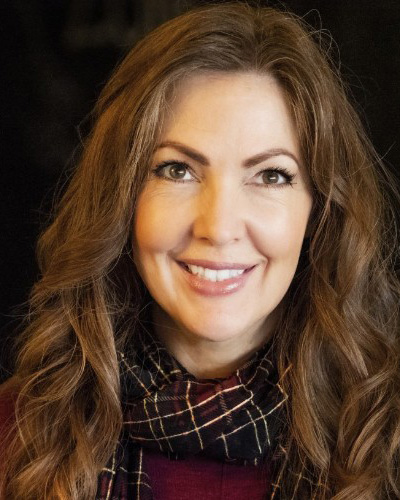 Michelle Robbins
Applying FlexMSBA Lessons to Life at LinkedIn
It stands to reason that a company with nearly a billion members who post their business thoughts and career aspirations online daily would be awash in data.
Michelle Robbins' job is to help the operations team of that company make sense of that data to turn it into a competitive advantage.
Robbins (FlexMSBA '23) is manager of decision science at LinkedIn and a student in UC San Diego's Rady School of Management's FlexMSBA program. She said what she is learning in pursuit of her graduate degree is already helping her as she leads a team of six analysts and data scientists with LinkedIn's Central Operations, Strategy and Innovation's Decision Science group.
"LinkedIn puts a premium on operational excellence and is a data-driven organization as a whole," Robbins said. "As I am daily operating in two different domains – work and school – that augment one another, that has benefitted the output of my program work as well as the input to my professional work."
Robbins joined LinkedIn as a business analytics manager in June 2022. Three months later, she was promoted into her current role. In that position, Robbins works with a variety of cross-functional teams across an equally varied array of projects to guide future-focused decisions at LinkedIn.
At roughly the same time as her promotion, Robbins started acclimating to life as a part-time graduate student when she joined the FlexMSBA program. The experience has been a crash course in time management.
"Getting the most out of the program requires committing a significant amount of time to it," she said. "Work/life balance is now work/school/life balance. Understanding that it is time-bound and it is worth it has made putting off some 'life' things easier."
Robbins spent years wanting to pursue a graduate degree in data science or advanced analytics, but many she found were online programs, something she realized during the COVID-19 pandemic that she definitely did not want.
When she found Rady and its FlexMSBA program, she was thrilled by what she'd discovered.
That thrill has continued as she has worked her way through the coursework.
She said she particularly enjoyed the Fraud Analytics and Customer Analytics courses, during which she was able to dig into actual case studies to apply a diverse set of machine learning algorithms and statistical analysis against real-world challenges. She also benefited greatly from the Experiments in Firms course, where the workshops and experiments "turned what could have been a theory-only course into an engaging and applied research opportunity," Robbins said.
"Both were excellent hands-on opportunities," she said. "The faculty were engaging, clear experts in those domains, and made the classes both interesting and challenging."
Robbins is now looking forward to the rest of her time in the FlexMSBA program and continuing her career at LinkedIn. She said she is excited about the upcoming capstone course this fall and the opportunity to fully apply what she's learned into an end-to-end solution for an organization.
Robbins encourages other professionals looking for a boost in their career to follow her route and make the time to attend classes in person.
"The value of the in-class experience, ability to network with and learn from peers, as well as have direct access to professors cannot be overstated," she said. "Pushing my team to remain curious while also upskilling and sharing with them what I've learned in the program has been invaluable."