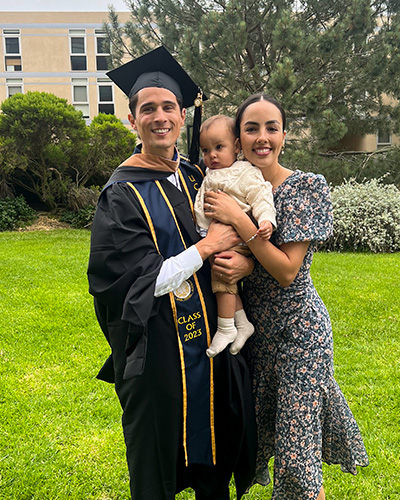 Milton Rubio
Going the Extra Mile — Literally
When most people think about furthering their education, clearing customs every week is rarely part of the equation.
It is for Milton Rubio (FlexWeekend MBA '23).
Rubio is a current student in UC San Diego's Rady School of Management's FlexWeekend MBA program, a part-time executive program designed for experienced professionals. Every weekend, he leaves his home in Culiacan, Sinaloa, Mexico, and steps on a plane bound for San Diego to attend classes in person.
Rubio said it's a testament to the FlexWeekend MBA program that he's willing to literally go the extra mile.
"It can be tough leaving my family behind, but we understand the importance of my education and the sacrifices we have to make," Rubio said. "I've had my fair share of travel mishaps, from flight delays to having to change flights last minute, but I'm determined to make the most of my MBA program at Rady."
Rubio has spent his weeks since early 2017 as a leasing manager and lead coordinator for project development with Arco Áreas Comerciales. In that role, he is responsible for managing tenant relationships and overseeing new commercial real estate development.
The work involves everything from conducting market research to determine the best areas for new projects, collaborating with stakeholders on current projects and providing overall management of various project teams to ensure all remain on time and within budget.
"The ability to create a sense of community within the areas we develop is deeply fulfilling for me," he said. "We understand the importance of creating spaces that not only meet commercial needs but also contribute to the fabric of the surrounding community. By creating spaces that are welcoming and inclusive, we are able to bring people together and foster a sense of connection and belonging."
Rubio said he was initially attracted to Rady because of its focus on entrepreneurship and innovation. That focus, he said, is one he shares personally.
In addition, Rubio wanted to grow his contacts and be part of a mutually beneficial community of professionals.
"The opportunity to connect with Rady's extensive network of alumni and industry partners was a major draw for me," he said. "I knew that these connections would be invaluable as I progress in my career."
He said his studies in the FlexWeekend MBA program already are contributing to his increased success with the company.
"I have gained a new perspective on the business world and have been exposed to new ideas and cutting-edge research," he said. "Additionally, I have had the opportunity to travel and learn from industry leaders and successful entrepreneurs, which has been an incredible privilege."
All of that makes the hassles of international travel more than worthwhile, Rubio said.
His own experiences lead him to recommend the FlexWeekend MBA program to those in similar situations and with similar interests in career growth.
"My experience at Rady has been incredibly enriching and humbling," he said. "Being a part of such an amazing cohort has allowed me to meet a diverse group of like-minded individuals from various industries. Overall, my experience at Rady has been invaluable and has provided me with a strong foundation for my future career."