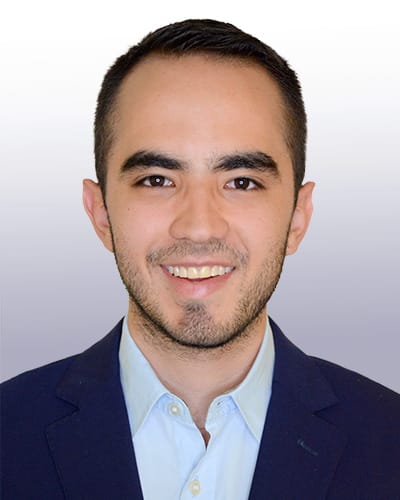 Esteban Velez
MFIN
How would you describe your "Life at Rady"?
Rady has everything to offer, from academic excellence to a great social life. The professors, program coordinators, and counselors do an amazing job of preparing you for what comes next in your life. The networking events that the program offers are also important and informative, as you get to meet new people from different cultures and with different life experiences. In terms of your social life, you have the opportunity to find the right people who complement you as a person and as a professional.
What is your favorite course and why?
My favorite courses have been Risk Management and Investment Analysis. With this much uncertainty in the markets, companies and investors are looking for ways to reduce their overall exposure by using key risk management techniques. Therefore, I consider risk management to be an extremely useful class, not only from an academic and theoretical perspective but especially from a real-life perspective. As I am very passionate about the markets, the investment analysis course provides you with the fundamentals that will help you succeed.
What are some examples of the hands-on learning (data tools, lab projects) you've experienced and enjoyed?
Case studies have been enormously useful, as they give students a real-life perspective of how companies and individuals solve real-time problems using the tools and knowledge provided to us during our classes. Also, most projects contain hands-on programming exercises that will help you develop your own programming and analytical capabilities.  
How do you think the analytical, data-driven coursework will help you in your career?
We live in a world in which data analysis is extremely important. The Rady MFin program does a very nice job teaching practical ways of collecting and analyzing financial data. As technology advances, data-driven skills will become more important and more valued in the labor market. The MFin coursework will provide you with the skills that better prepare you for the dynamics within the financial industry.
Have you joined any clubs or organizations? If so, which ones?
I am a member of the Rady Finance Club, where networking events are organized for Rady students, and guest speakers from various financial companies are invited to share their experiences working in the financial industry.