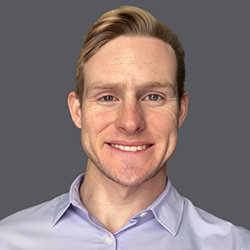 Elliot Dean
Forecasting Future Electrical Needs


Knowing how much electricity a utility company's customers will need at some point in the future might seem as impossible as slowing the damage caused by climate change.
Elliot Dean's job is to do both.
Dean (FlexMSBA '23) is a data scientist at Southern California Edison (SCE), working for the electric utility's predictive modeling department. His main task is to understand the company's customers and the drivers of electricity demand so well that he can ensure SCE is able to offer just enough electricity to meet customer needs at any given time.
To find success, Dean leans on the education he's receiving in UC San Diego's Rady School of Management's part-time Master of Science in Business Analytics program.
"The program has helped me to develop critical thinking and problem-solving skills, which have been invaluable in my work at SCE," said Dean, who earned his bachelor's degree in statistics from UCLA in 2019. "I have been able to approach complex problems with a structured and analytical mindset, which has enabled me to take on projects with more confidence."
That confidence is needed when the task at hand is so large.
SCE has a goal of net-zero emissions by 2045. The most environmentally friendly kilowatt is the one that never is generated, which puts a strong emphasis on correctly predicting demand to prevent unnecessary generation.
Beyond that, those kilowatts that are generated will have to come from sources other than fossil fuels if SCE's goal is to be reached.
This is what makes Dean's job crucial to the company's efforts.
"It's motivating to know that my work is helping to pave the way toward a sustainable future, and I feel privileged to be part of that effort," he said. "I hope that by demonstrating the feasibility and benefits of transitioning to clean energy, we can inspire other companies and utilities around the world to follow suit."
Dean chose the FlexMSBA program because of its blend of technical data science training and business coursework. The program's every-other-Saturday structure gave him the flexibility to stay with SCE while earning his degree.
He said that managing the workload of a full-time employee and the FlexMSBA program has been a challenge, but it's one that has helped sharpen his time management skills while giving him immediate on-the-job benefits.
"The skills and knowledge you gain from the FlexMSBA program have been directly applicable to my work at SCE and have helped me to become a more effective and efficient data analyst," Dean said. "I have become much more confident in my data science skill set."
That skill set is being put to the test.
The rapid increase in electric vehicles and the implementation of business codes that incentivize electric space and water heaters have put upward pressure on electricity demand. Accurate forecasts of that demand are vital to planning future power generation needs to keep the grid stable and reliable.
Dean said he has learned how to be more effective on the job because of the FlexMSBA program, and not just from classroom lessons.
"I have realized the importance of collaborating and learning from my peers," he said. "The students in the FlexMSBA program represent a diverse array of academic backgrounds, cultures and careers. The content for the program is great, but ultimately, the people involved in the program – both the professors and other students – are the real strength."