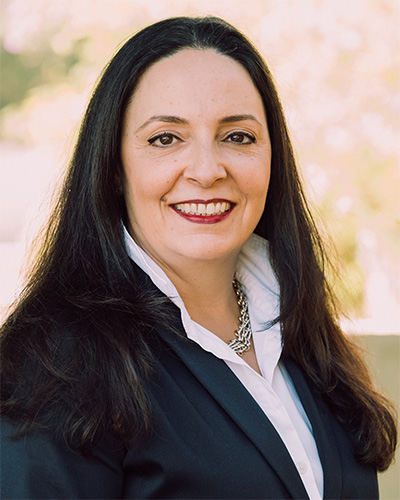 Ariyella David
From Student Project to Full-Time Job
Ariyella David (FlexMBA '22) was looking forward to her capstone experience in UC San Diego's Rady School of Management's MBA program.
What she didn't realize was the class would lead her to landing a new job.
David is the director of marketing at Looq, a startup founded by UCSD alum Dominique Meyer. She was first introduced to Meyer while a student in the FlexWeekend MBA program, which allows professionals to earn their MBA part-time while continuing their careers.
David partnered with Looq for the signature capstone course series of the Rady MBA program. The three courses in the series begin in the classroom and move into project-based work where students showcase the analytical framework they have learned while at Rady.  
"Dom asked (us) to see if there was a viable product-market fit for the technology that he was developing," David said. "Our team performed some primary and secondary research for him, and I was intrigued about how this company would play out."
She was impressed by what she saw in Meyer and Looq as she gained a better understanding for how to move a company from concept to product launch. She kept in touch with him after the course ended, and in one of those conversations, he offered her the company's top marketing job.
She accepted.
Today David is the director of marketing, a role she's held for almost a year. In that position, she finds herself wearing the many hats that come with being an employee at a startup. Hers is a unique role for the company, which is developing technology that creates 3D virtual renderings of construction and infrastructure projects at industrial-sized scale.
"I am the only non-engineer at Looq," said David, who had been in sales for more than a decade before transitioning to Looq. "That means I look at issues or problems from the business perspective, rather than a technical one. I think of the sales and marketing side."
The ability to think from both perspectives was honed during her time at Rady.
"After having been in sales for so long, utilizing my soft skills, (Rady) presented a great opportunity to hone my analytical skills," she said. "I met a lot of amazing people at Rady, both students and instructors."
David said she selected the program because it was tightly linked with the Southern California tech industry. She wanted to return to a job in marketing — where her career began — but knew she needed additional skills to make that happen.
Rady's FlexWeekend program fit perfectly.
David said she uses what she learned in the FlexWeekend program daily at Looq. Those lessons have been vital to her early success with the company.
"The analytical skills that I gained have helped me understand the structured thinking process an engineer has," she said. "This has helped me understand my customers and my coworkers in a more constructive manner."
Because of what she found through Rady, David recommends the FlexWeekend program for professionals in a similar position to where she found herself.
If not for the connection she formed with Meyer during her capstone course, she wouldn't be where she is today.
"One of the many benefits of the Rady MBA program is the relationships that we build," she said. "I am amazed at the quality individuals that I have met in the Flex program."